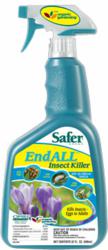 Interest in organic gardening is only growing, and products like EndALL make organic gardening possible for every homeowner
Lititz, PA (Vocus/PRWEB) February 10, 2011
USDA compliant for use in organic gardening and independently reviewed and approved by the Organic Materials Review Institute (OMRI), EndALL™ is the first OMRI® Listed product that kills insects at all stages of life -- including eggs -- on contact.
Because EndALL's active ingredients are fatty acid potassium salts, neem oil and natural pyrethrins that dissolve in the soil, leaving no residual chemicals behind, the economical spray is safe for use on fruits, vegetables, flowers, houseplants, ornamentals, trees and shrubs. In fact, EndALL can be used up to the day of harvest with no risk to people, animals or plants.
EndALL demonstrates Safer Brand's ongoing commitment to supporting organic gardening. As part of that commitment, the company offers a variety of resources for gardeners and homeowners. Perhaps the best place to start, however, is the Safer Brand Facebook page, where organic gardeners can exchange ideas and gardening success stories, get tips, and view how-to videos to learn how to keep their gardens and plants healthy year-round.
"Interest in organic gardening is only growing, and products like EndALL make organic gardening possible for every homeowner," explained Justin Emig, Safer Brand category development associate. "Safer Brand developed EndALL to take the guesswork out of organic pest control for novice and expert gardeners alike."
For more information, please visit:
• EndALL - Buy Now!
• Organic Gardening 101
• Organic Products
• Follow us on Facebook
About Safer Brand
We are Safer® brand, Concern®, and Victor Poison-Free® - three strong brands recognized as world leaders in the organic pest control, organic plant disease control and organic gardening categories! We offer the broadest and deepest selection of quality organic bug control and plant disease control products at competitive prices. Our organic gardening products are targeted to meet the varying needs of you, the consumer! So, whether you are an experienced gardener or novice, there is a product to fit each and every situation.
Safer Brand, has been trusted by consumers since 1976 and is a division of the Woodstream Corporation located in Pennsylvania.
About Woodstream Corp:
Woodstream Corporation is a long-standing, privately held company and a leading manufacturer and marketer of quality-branded wild bird feeders, rodent control products, caring control products for pets and wildlife and organic solutions for lawns & gardens.
# # #