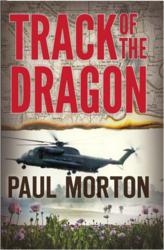 Where duty gave way to honor and bonds were forged in blood.
Minneapolis, MN (Vocus/PRWEB) February 09, 2011
Iraq and Afghanistan after 9/11, or Vietnam in the 60's—when it comes to war many troops are plunged into experiences beyond even their imaginations. Presented with such historically accurate details, Track of the Dragon will have readers wondering what's real and what's fiction. Author and Vietnam veteran Paul Morton takes us on the life-changing journey of a special ops soldier in an historical novel that immerses you in the reality of the descriptions of the country, the military adventures, and the lifestyle portrayed.
Track of the Dragon shows how the lives of so many hang in the balance depending in large part on these troops' skill, and choices they are forced to make during war.
For Peter Moore, a young Army Airborne Ranger newly assigned to a special operations team in Indochina, a secret war was not what he had prepared for. Assigned to a covert special operations unit designated Delta-19, Moore soon becomes familiar with the CIA's thinly veiled paramilitary arm, Air America. Along with a mercenary force of indigenous troops, Delta-19 is fighting a war deep in the shadows.
A series of questionable events places one of the teams at great risk, one of their top operators is killed under mysterious circumstances and the relationship between the Delta team and Air America is severely strained. When information indicates one of the CIA case officers may have gone rogue and a hostile force of Burmese bandits and drug lords become involved in the trafficking of opium, the troops of Delta-19 stand at the edge of mutiny. Unsupported, operating in the black, the men of Delta-19 must choose between honor and duty, or something yet to be defined.
About the Author: Paul Morton is a Vietnam veteran who was involved in security and intelligence-gathering operations in Southeast Asia and served with the NSA in the Pacific region. Following military service Morton's career in law enforcement spanned two decades including undercover intelligence, narcotics operations and a lengthy tenure on the SWAT team. During his law enforcement career he was awarded numerous commendations as well as two Medals of Valor. Morton holds a graduate degree in psychology, and continues to work with law enforcement agencies conducting crisis negotiations, critical incident debriefings and consultation on personnel issues.
For more information please call or email publicist Jennifer Herron, or visit: http://www.dpmorton.com.
###