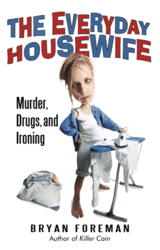 I love getting dirty, working with my hands, and the sense of accomplishment you get from a hard day's work.
Oklahoma City, OK (Vocus/PRWEB) February 08, 2011
One might think 'The Everyday Housewife: Murder, Drugs and Ironing' could be an episode of the new season of Bravo's "Real Housewives of New York City." In the novel, a 38-year-old Midwestern housewife leaves a cheating husband and two ungrateful teens to make it big as a writer in the Big Apple—just to find her liberating escape is a lot more drama than she ever imagined. Even more intriguing is the author, Bryan Foreman, an Oklahoma City construction worker who moonlights as a fiction writer.
"I'm just your regular working-class stiff," says Foreman. Though he aspires to be the next James Joyce and has always had a talent for writing, he wouldn't give up his day job. "I love getting dirty, working with my hands, and the sense of accomplishment you get from a hard day's work."
Foreman based the main character of 'The Everyday Housewife,' Katharine Beaumont, on his mother. "Your own mother is the toughest and most resilient person you'll ever know in your lifetime," explains Foreman.
In the book, the suburban housewife boards a Greyhound bus from Oklahoma City headed for New York City, where she plans to fulfill a life-long dream of becoming a best-selling novelist. Once off the bus and wandering the streets of Manhattan, Katharine has to adapt to her new and hectic environment. Her new, Sex-in-the-City-esque lifestyle becomes more and more like that of her novel's heroine, Kitty Everhart, a British spy shipwrecked on a desert island. Katharine meets a quirky cast of characters, from a murder-for-hire bartender to a mob boss and drug dealer. Along with her new friend, Bree, Katharine soon become entangled in an adventure fit for one of her novels.
'The Everyday Housewife' is a refreshing, darkly humorous look into inner demons, even in an unassuming career housewife. Will Katharine find her calling in New York City? Or will her new, exciting New York life prove not to be what her heart truly desires?
About the Author:
Bryan Foreman is a construction worker in Oklahoma City, Okla. Foreman graduated from Oklahoma University with a bachelor's degree in journalism, but discovered after graduation that he wasn't cut out to be a newspaperman or TV news anchor. "I preferred living in my own imagination over reality and current events," says Foreman. While writing short stories and attempting his first novel, 'Killer Cain,' Foreman went to work for his father's construction business. He is currently working on his next book.
(Review copies are available by request)
###