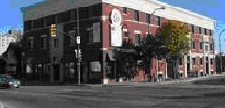 "Osborne Village is a good fit for KMG...Winnipeg is logistically ideal for our international insured precious metal shipping... So, Winnipeg and Manitoba are both ideal for business."
Winnipeg, Manitoba, Canada (Vocus/PRWEB) February 08, 2011
KMG Gold Recycling, owned and operated by KMG Environmental Inc. winner of the 2010 BBB Torch Award for Marketplace Excellence, welcomes you to their new head office and processing facility at 19 – 222 Osborne Street in Winnipeg's historic Osborne Village.
To better serve KMG customers in Winnipeg, Manitoba, and across North America, KMG Gold opened their new location in Winnipeg's historic Osborne Village. KMG's office and processing facility is located at 19 – 222 Osborne Street, Osborne Junction or "Confusion Corner", across from the landmark Roger Watson Jewellers.
KMG Gold Recycling buys, recycles, and refines precious metals from all across North America, including; gold, silver, platinum, palladium, and rhodium as well as diamonds. KMG offers the highest pay out rates in North America, paying out as much as 98% of market value for gold.
Mike Gupton, KMG Gold President, says "We're very excited about the ability to provide better service to our individual, repeat and future clients at our new location. We're open 9:00 am to 5:00 pm, Monday to Saturday. Parking is available in the back and our friendly staff is looking forward to assisting you with all of your precious metal recycling and refining needs", says Gupton.
"Osborne Village is a good fit for KMG, because of its it's central location within Winnipeg. And Winnipeg is logistically ideal for our national and international insured precious metal shipping which is a large component of our business. So, Winnipeg and Manitoba are both ideal for business." says Gupton. KMG has refinery direct shipping outlets in Victoria, Vancouver, Burnaby, Surrey, Kamloops, Calgary, Edmonton, Winnipeg, Kenora, Toronto, and Sacramento California.
Manitoban since 1968 and a gold prospector since 1983, Gupton is a published and recognized expert on the environmental practices of mining and mineral exploration. "I've been prospecting since 1983, but I've found more gold and silver on city streets than I ever did up north…" jokes Gupton.
In 2010, KMG was presented the prestigious BBB Torch Award for Marketplace Excellence, in recognition of their ongoing dedication to high business standards, ethics, integrity, honesty, transparency, and excellent customer service.
BBB Torch Awards showcase businesses that build trust, advertise honestly, tell the truth, remain transparent, honour their promises, and display integrity in all of their marketplace activities.
KMG Gold leads the gold buying industry by making detailed information on precious metal recycling, the current gold buying market, the effect mining has on the environment, and other helpful tips for gold buyers and gold sellers available on their Canadian website, http://www.kmggold.ca and their American website, http://www.kmggold.com
For more information on KMG, visit kmggold.ca or call 204-452-4653, toll free: 1-877-468-2220.
Media Contacts: Michael Gupton, President, KMG Environmental Inc., 204-452-4653.
###