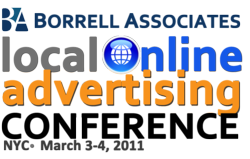 Local media is facing the dichotomy of constriction and opportunity
New York, NY (Vocus/PRWEB) February 08, 2011
Some of the biggest names in local online media – including Groupon's head of operations – have joined the all-star cast of speakers for Borrell Associates' 2011 Local Online Advertising Conference, March 3-4, in New York City.
Borrell announced the final slate of speakers this week, including the addition of Ryan Miller, director of operations and head of Merchant Services for Groupon, and top executives from Gray Television, Gatehouse Media, Greater Media and Deseret Media.
"Local media is facing the dichotomy of constriction and opportunity," said company CEO Gordon Borrell, "and we're very lucky to have speakers who have figured out how to thrive in such a challenging environment. Every major media segment – yellow pages, radio, pure play online, TV, newspapers – will be represented by the most successful players in online ventures."
A key addition to the agenda is Clark G. Gilbert, a former Harvard professor who is now CEO of Deseret Media in Salt Lake City. In less than a year at the helm, Gilbert has built a team that has driven online revenues to the highest level for any local TV station.
Gilbert's presentation will follow the conference's major keynote presentation by Clay Christensen, the world's foremost authority on disruptive innovation and author of the best-selling "The Innovator's Dilemma." Christensen's presentation is entitled, "Local Media, Disrupted: Why Organizational Structure is Key to Seizing Digital Dollars." For preview of Christensen's presentation, see this video of his recent discussion with Gordon Borrell.
Driving home Christensen's message will be the real-life experiences of Gilbert at Deseret Media. Gilbert will be presenting "The Local Media Manager's Dilemma: Managing Old Media Down and New Media Up."
Also joining the roster are Greater Media CEO Peter Smyth, Gray Television CEO Robert Prather, and Gatehouse Media COO Kirk David. They will part of a lineup that includes key executives from Patch, Google, Examiner.com, CBS Radio, Yahoo, The New York Times Co., YellowBook, AT&T, Autotrader.com, CityGrid Media and others. In all, the conference will include 50 speakers.
The conference will open with welcome and keynote messages from media guru and radio/TV personality Shelly Palmer, and Greg Stuart, Global CEO of the Mobile Marketing Association.
Christensen is part of an all-star lineup of more than 50 speakers who will explore the dramatic transformation of local media brought on by the Internet and mobile media. The speaker mix includes advertisers, agencies and media company executives. The conference will also be streamed live and available on-demand for 30-days by using the Attend@ Your Desk access.
The conference also features some of the leading suppliers and partners who are helping local media maximize digital opportunities, including include Yahoo!, Cox Digital Solutions, 360Directories.com, AdMall, Amdocs, Local Thunder, Local.com, MerchEngines, Marchex, CineSport, Internet Broadcasting, WSI, Inergize Digital, Second Street Media, LocalSplash, WorldNow and Analog Analytics.
Borrell's Local Online Advertising Conference kicks off March 2 with a pre-conference workshop entitled, "Make Money Now with Mobile Media." The full conference runs March 3-4. All sessions are at the Grand Hyatt on E. 42nd Street in New York City.
YouTube video -- http://youtu.be/i5YL3xZDsKA
###