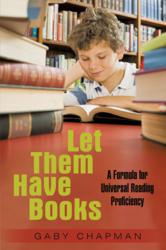 "In her book, Gaby Chapman gives life, energy, and texture to the dry research about the power of reading choice." Howard Margolis, Ed.D., Professor Emeritus, Reading Disabilities & Special Education, City University of New York
Willits, CA (Vocus/PRWEB) February 08, 2011
The formula centers on fostering enthusiasm for reading by ensuring adequate early literacy experience, providing early intervention for potential reading difficulties and prioritizing a rich, free-choice reading culture in schools.
"When I started teaching, I was delightfully surprised by how enthusiastic third graders were about reading," says Chapman. "But when I moved into teaching a sixth grade class, I was stunned to see that in only three years many had learned to absolutely hate reading and their literacy skills had hardly progressed at all."
Through years of teaching and extensive research, Chapman came to believe that good literacy skills rest on children's ability to read widely from books of their own choosing. But after observing some of her students' difficulties with reading, she learned that children's earliest literacy needs must be adequately met first. Schools need to do a better job delivering a high level of literacy skills to all students. The book details the workings of current literacy education, describes the many benefits of a high level of reading skills and offers concrete ideas for improvement.
While Let Them Have Books is well researched, it does not read like an academic treatise. It is heavily laced with anecdotal stories about children the author has taught. These stories make the book both highly readable and compelling. Not only will it appeal to educators who want to improve literacy, it will also appeal to parents who want to understand their children's reluctance to read. In addition, policy makers will find ways to better support literacy education.
About the Author:
Gaby Chapman learned to question education traditions from her uncle, acclaimed educator and author of How Children Fail, John Holt. Chapman was quick to get involved with the classroom when her daughter started school and soon ran for the school board. As school board president in the 1970s, she oversaw the construction of a new school, began a school band and started one of California's first charter schools. She retired from teaching in 2009 and now connects children to books as a consultant for Book Pig, an online children's lending library. She also writes a column, "Books for the Teenage Mind" for her local newspaper.
###