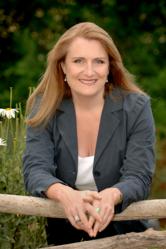 Forgiveness makes you powerful by releasing you from the bonds of pain. Forgiveness is a gift you give yourself.
--Allegra Huston
Taos, NM (Vocus/PRWEB) February 09, 2011
Allegra Huston, author of" LOVE CHILD: A Memoir of Family Lost and Found," creates a course on "Forgiveness Through Writing" for the Daily OM, the web's premier self-development website.
In "Love Child" (Simon & Schuster, 2009) Allegra recounts her turbulent, fragmented childhood, losing her mother in a car crash at age four and reconciling two fathers and two very unorthodox families. Allegra wrote the book, she says, "to hold up a candle for the possibility of rising above resentment and bitterness and ideas of the way things are supposed to be, and creating one family out of conflicting fragments--a family which defines itself by ties of love."
"Love Child" was hailed by the bestselling mystic and teacher Andrew Harvey as "a masterpiece of astute and unshrinking compassion, an encouragement to all of us to face the turmoil and complexities of our past with forgiveness, humble self-knowledge and openness to the mysterious and often paradoxical rhythms of healing." The book made the bestseller list of the San Francisco Chronicle and Denver Post.
Available for a suggested price of $25, Allegra Huston's "Forgiveness Through Writing" is an eight-week online course with two writing exercises per session, guided by Allegra's own voice. An immediate success upon launch (September 21, 2010), Allegra's course quickly became one of the Daily OM's top ten bestselling courses. It can be found here: http://www.dailyom.com/cgi-bin/courses/courseoverview.cgi?cid=136
Other authors offering courses on the Daily OM website include Deepak Chopra, Andrew Harvey, Ellen Whitehurst, and Debbie Ford.
This is how Allegra describes her course:
We all grow hard shells to protect us from the pains of life. Those shells often keep joy out and pain in. Forgiveness breaks down the shell and returns you to a place of harmony with the people in your life, and with your destiny. Forgiveness makes you powerful by releasing you from the bonds of pain. Forgiveness is a gift you give yourself.
But forgiveness isn't always easy to achieve. Probably you've tried, but the dragons of anger in your mind keep breathing fire. Perhaps you are tormented by resentment and bitterness and an anguish that won't go away. The trick to forgiveness is not to force it into existence with an act of will. You already know that doesn't work. Forgiveness is an act of grace.
This course gives you the tools to remove the shell and open your heart to the grace of forgiveness. We'll do it with pen, paper, and imagination - and it won't hurt. Instead, you'll laugh. With laughter comes freedom, insight, and a renewed sense of solidarity with your fellow travellers through this difficult, beautiful world.
About Allegra Huston
Allegra Huston was for nine years a publisher in London, working with authors including Iris Murdoch, Edna O'Brien, Barbara Leaming, and Jane Goodall. She is currently completing a short film, Good Luck, Mr. Gorski, which she wrote and produced, and is co-director of Imaginative Storm Writing Workshops. She also teaches creative writing for the National University of Ireland, Oklahoma University, and Britain's highly respected Arvon Foundation.
For more information on Allegra's book or writing course, contact
Jennifer Hobson
JLH Media
505 603 8643
jennifer(at)jlhmedia(dot)com
# # #