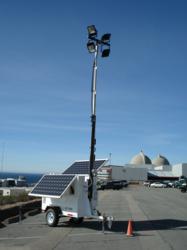 The solar light tower SLT600-HVR is for higher volume lighting applications and rental companies who serve them. This solar light tower provides bright outdoor lighting without the noise, pollution or operating costs of a traditional diesel light tower.
Apex, NC (Vocus/PRWEB) February 09, 2011
Progress Solar Solutions™, LLC has introduced a new Solar Light Tower designed specifically for the needs of higher volume users and for weekly rental applications. The SLT600-HVR adds larger battery bank(s), increased solar power generation capabilities with MPPT controllers, automated user-controllable timer(s) for the LED floodlights, battery state-of-charge meter(s), as well as a dual battery bank charger to facilitate rapid back-up charging capabilities during in-climate weather or fast turn-around on same day rentals. Portable, Progress Solar Light Towers are similar to diesel light towers but are powered with free renewable energy instead of diesel fuel, reducing associated noise and fossil fuel emissions.
The Progress SolarTM Light Tower SLT600-HVR is made in the U.S. and operates without diesel fuel eliminating the routine use of fossil fuels or generation of greenhouse gas emissions. The SLT600-HVR is one of a range of Solar Light Towers each optimally designed for specific lighting applications and lighting volume needs.
The Progress Solar(TM) Light Tower complete product range includes a) the SLT600-S which is best suited for moderate volume end users; b) the SLT600-HVR for higher volume and weekly rental applications; and the SLT800-HVR designed for the highest volume users and longer term rental applications.
Each Progress Solar Light Tower is a rugged, mobile light system that provide high-intensity, bright white lighting on-demand, where and when you need it. They are equipped with high power generation solar arrays housed on automated solar wings that are positioned toward the sun to capture its energy; and long-life, deep-cycle battery banks to store energy for use when needed at night or during in-climate weather. The solar/light control module is equipped with MPPT (maximum power point tracking) controllers to maximize the solar power generation and protect the batteries from over/under charging. Both flooded and AGM, sealed, no maintenance batteries are available and can be easily monitored with visible state-of-charge meters. The light tower is adjustable from 12-30ft in height, can tilt up/down and able to rotate 360 degrees. The four (4) solid-state, energy-efficient LED flood lights provide high lumen output and brilliant white light; instant-on/off with no warm-up or flickering; are extremely reliable, vibration and shatter resistant; and designed to provide up significantly longer run time between bulb changes than metal halide lights. In addition, there are automated clock timers to automatically or manually turn the lights on/off. The system is on a towable trailer that maximizes functionality and convenience and can be easily towed to its destination.
About Progress Solar Solutions(TM) LLC
Progress Solar Solutions, LLC is a privately held company located in Apex, NC that provides high-performance, eco-friendly and cost-effective solar and lighting solutions for commercial, industrial, government and institutional applications. Progress Solar™ Light Towers are available for rental or purchase through national rental companies and a national dealer network. Call for the location nearest you or for help in deciding which model is the best fit for your needs. For more information on Progress Solar Solutions, LLC or the Solar Light Tower (SLT600-HVR), call (919) 332-0069 or visit http://www.ProgressSolarSolutions.com.
# # #