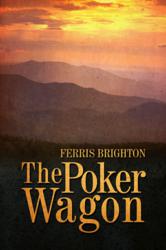 West Richland, WA (Vocus/PRWEB) February 10, 2011
The Poker Wagon, a new book by Ferris Brighton, has been released by RoseDog Books.
The Poker Wagon uses the theme of a Civil War "house of prostitution on wheels" to spotlight the Appalachian Mountain culture during that timeframe. The hill people of West Virginia are descendants of settlers dating back to Old England and Shakespeare.
The author uses stories and overheard conversations from childhood to bring the rich and colorful language of this uniquely distinctive culture to life. The quaint illustrations have a tongue-in-cheek, honest sexuality that pokes fun at the elephant in the room, the subject of sex in daily life. The straightforward and brutally frank language and illustrations are refreshingly delightful.
The author was born mid-twentieth century at a coal camp in the sparsely populated county of McDowell in southern West Virginia and raised in a culture in this isolated mountainous area that was, in many ways, the same as life during and following the Civil War. This forged an original and unique belief system that expresses in her writing and artwork.
The author has written many manuscripts led by visions and automatic writing during sleep. This is the first to be printed of many uniquely original books with a message that is indeed "new under the sun."
The Poker Wagon is a 48-page hardcover with a retail price of $15.00. The ISBN is 978-1-4349-8310-7. It was published by RoseDog Books of Pittsburgh, Pennsylvania. For more information or to request a review copy, please visit our virtual pressroom at http://www.rosedog.com/pressroom or our online bookstore at http://www.rosedogbookstore.com.
# # #