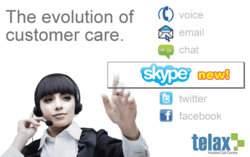 Toronto, Canada (Vocus/PRWEB) February 08, 2011
North America's leader in hosted call center solutions today launched Skype integration, allowing users of the Telax Hosted Call Center platform to route and manage incoming calls received from a Skype ID. The ACD channel expansion increases the social media management options available with the 3.0 contact center solution, which already integrates with a number of digital media channels such as email, chat, Facebook and Twitter.
Koray Parmaks, VP of Marketing for Telax, explained the importance of the integration: "Contact centers are adopting new models for service delivery – companies are looking to connect with their customers through new channels. Telax is a leader in the social media integration space." Telax Hosted Call Center's cloud-based model allows all new and existing users of the call center software to immediately benefit from the release of Skype integration, without incurring any additional cost.
Skype is a major player in global communications: in the first half of 2010, nearly 6.5 billion minutes of calls to landlines and cellphones were made using Skype alongside 88.4 billion minutes of Skype-to-Skype calls. "Given the popularity and response we've received from other social media integration and the sheer size of Skype, this was a logical next move as we strive to give our customers the competitive advantage in this changing contact center space," said Parmaks.
About Telax Hosted Call Center:
Telax Hosted Call Center is North America's leader in hosted call center solutions. Based in Toronto, Canada, Telax has been providing cloud-based business solutions to prominent public and private sector organizations since 1999. The simplicity delivered by Telax services enables clients like Northrop Grumman, Johnson & Johnson, CI Investments, the Globalive Group of Companies, Health Canada and the GSA, to reduce costs and improve efficiency, so that they can do more with their most critical resource: people. For more information, visit http://www.telax.com. For the latest Telax news, visit http://www.telax.com/category/news.
###