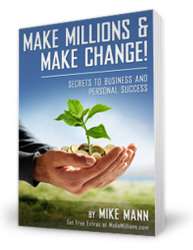 "The book literally teaches people who are not otherwise prepared to make millions. The idea is that common people are capable of taking these steps to be successful despite their background, education, money or geography."
Santa Monica, Calif. (Vocus/PRWEB) February 09, 2011
This year, many people made important resolutions to get their finances in order. With the economy improving some pledged to earn more money in 2011.
But that's easier said than done. Just where do you begin?
Millionaire author Mike Mann says he can help.
Mann's new book, "Make Millions and Make Change Secrets to Business and Personal Success," is showing people a pathway to financial independence.
"The book is not just abstract theories. These are things you can actually do in your business today and start making money," Mann said in an interview. "It starts with the basic premise of how and why and what sort of attitude you should have. Then the book goes into detail about how you should address a whole myriad of important business issues."
And the guide is an easy read, Mann stressed.
"It is amazing how simple and small the book is because it's teaching a really big and complex subject," he added.
Despite the title, Mann said "Make Millions and Make Change" is not a "get-rich-quick scheme."
"Nobody ever said anything was easy, but it's possible. The book literally teaches people who are not otherwise prepared to make millions," Mann said. "The idea is that common people are capable of taking these steps to be successful despite their background, education, money or geography."
He said his methods have helped people become wealthy in even difficult economic times.
"We're teaching everybody and telling everybody what we're doing. We're telling them to copy us," Mann said. "People can make millions of dollars if you can get the book and the audio in their hands."
That's why he is giving the book away for free. You can download a copy of "Make Millions and Make Change" at http://www.makemillions.com.
"The main premise of the book is about self confidence and hard work. It's a way of overcoming disadvantages. It's about competition, strategic advantages and best practices," Mann explained. "Some people have strategic advantages over others on day one and there are all sorts of ways of making up for it."
Mann, a self-described "serial entrepreneur," has been doing business on the Internet since the 1990s. He founded the world's largest secondary market for domain names, BuyDomains.com, now called NameMedia.
In "Make Millions and Make Change," Mann begins explaining in chapter one how you too can start a company in the industry of your choice.
"I wanted to explain to people what I was doing, why I was doing it, and conceptually recruit other people to do the same thing," Mann said. "It actually does work."
Many received financial books for Christmas. But several Internet chief executive officers say "Make Millions and Make Change" is the must-read for 2011.
"I have found the book to be full of practical ways to think about business," said George Pickering, CEO of localexperts.com. "Even for a seasoned entrepreneur, I've found myself stopping at key points and reminding myself that some of the business challenges I face are because I'm ignoring the foundation."
According to Steve Harris, CEO of knowledgepublications.com, "the book hits a chord with people out there who have hopes and dreams: the hopes and dreams of starting a business, of being independent and under their own control … This hopeful dreamer, the untouched entrepreneur, is one of the prime audiences for Mike's book."
About Mike Mann and "Make Millions & Make Change!"
Mike Mann, social activist and serial entrepreneur, is the author of "Make Millions and Make Change!" a business book focused on making money in small business in order to better serve society. Mike is the founder and chairman of Grassroots.org (a 501c3 nonprofit), a global network providing free services to nonprofits and promoting social action. He also founded and manages Make Change! Trust, a charitable fund that supports select 501c3 organizations. Mann is also the founder of many for-profit organizations including Phone.com, SEO.com, Skateboards.com, DomainMarket.com, Yield Software, BrowserMedia, PRMarketing.com, PurePPC.com and others. For more information, visit http://www.makemillions.com/
# # #