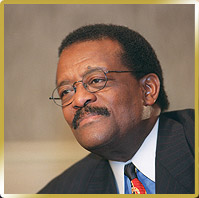 Los Angeles, CA (Vocus/PRWEB) February 10, 2011
The Los Angeles, CA law firm of The Cochran Firm, Los Angeles recently launched their website, providing a valuable online legal resource to current and potential clients.
The site offers helpful information to remove some of the fear and uncertainty from the legal process, including basic information on Los Angeles car accidents and wrongful death laws.
"Our new site is designed entirely with our clients and potential clients in mind. We certainly hope they will use it as a resource to answer their initial questions, and then let us guide them through the legal process personally."
Website visitors learn how the experienced wrongful death and car accident attorneys at The Cochran Firm, Los Angeles can assist them with their legal issue. The firm has developed a reputation for maintaining high ethical standards while aggressively representing clients throughout Los Angeles in wrongful death and car accident legal matters.
About the Firm
The Cochran Firm, Los Angeles provides premier legal representation to individuals and families throughout Southern California and statewide in personal injury and Los Angeles wrongful death claims, civil rights violation cases, and criminal defense matters. Attorneys at The Cochran Firm, Los Angeles offer legal counsel primarily in the following areas:

Car Accidents
Civil Rights
Criminal Defense
Personal Injury
Wrongful Death
The Cochran Firm, Los Angeles was founded over 40 years ago by the late Johnnie L. Cochran, Jr., one of the country's most well-known and well-respected legal advocates. Comprised of a select group of lawyers chosen by Mr. Cochran himself to carry out his legacy, The Cochran Firm provides high-quality, effective representation for ordinary citizens throughout the country. Our attorneys pride themselves in standing up for the rights of people and families who have been wronged by the conduct of others, be it a personal injury or wrongful death matter, or a case arising out of police abuse or government misconduct.
If you are in Los Angeles or anywhere in Southern California and need assistance with a personal injury or wrongful death claim, civil rights matter or criminal defense case, contact The Cochran Firm, Los Angeles today for a free initial consultation, 323-931-6200.
###