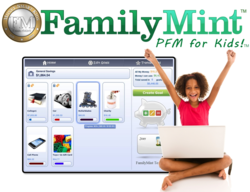 FamilyMint serves two significant marketplace needs: personal financial education and a PFM program for kids.
Ann Arbor, MI (Vocus/PRWEB) February 09, 2011
FamilyMint, the online tool helping parents raise money-smart kids, is excited to announce that they have been awarded the PTPA Winner's Seal of Approval. PTPA Media is North America's largest parent community, with over 40,000 volunteer parent testers.
FamilyMint was among many entries from across North America competing to earn the PTPA™ Seal. Because independent parent volunteers evaluate these products in their own homes, PTPA winners are chosen based on merit and consumer experience – not on commercial considerations. As a result, the PTPA Media™ Seal has quickly gained recognition as an international leader in certifying consumer products for quality, effectiveness and value.
FamilyMint is an award winning online personal financial management (PFM) and educational tool for kids designed to start forming the right financial behaviors in an interactive, fun and simple way while emphasizing the importance of saving, setting and achieving goals. FamilyMint allows children ages 6 to 16 to track their money and goals online while the parent holds the money and acts as the banker. FamilyMint is a great way to discuss finances with the entire family and educate kids of all ages about proper money management, setting the foundation of saving that will benefit them for the rest of their lives.
After using FamilyMint with her own family, Judy wrote "I love this program more and more every week! The fact that my kids have become very careful about their spending and smart about their decision making skills makes it one of the best tools we use to teach ever."
Based on a survey of FamilyMint users, parents consistently saw a shift in their children's thinking from a desire to spend to a curious interest and even excitement to save. A quote from one parent stated, "Our 13 year old used to spend and spend but now she is saving and actually looking for work so that she can add to her balance."
FamilyMint is now partnering with credit unions to assist in educating, attracting and retaining young members. According to CUES member, Lon Bone, Vice President, Public Relations and Community Involvement, for Genisys Credit Union " FamilyMint serves two significant marketplace needs: personal financial education and a PFM program for kids."
"We are honored to have been awarded the PTPA™ Seal and this is another huge achievement for FamilyMint in our mission in helping kids appreciate money," said Bob Masterson, FamilyMint co-founder.
For information about the Credit Union program, visit: http://www.aboutfamilymint.com
For more on FamilyMint or to register, visit: http://www.familymint.com
For more information about PTPA Media Inc. and PTPA Seal, visit: http://www.ptpamedia.com
###