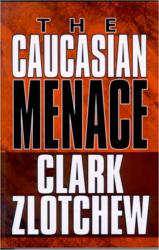 (Vocus/PRWEB) February 15, 2011
Recent reports of the guerrilla warfare taking place in the Republic of Dagestan, a republic within the Russian Federation, eerily comes on the heels of the publication of the espionage/thriller, The Caucasian Menace, a new novel set in a Dagestan which has already broken away from Russia. Dagestan, a remote region in the troubled Northern Caucasus, is unknown to most Americans, but is adjacent to Chechnya, which has been ravaged in fighting between Russian Government forces and Chechen rebels. In 2010 and 2011 this violence has spilled over into Dagestan, a potential tinderbox inhabited by various ethnic groups speaking 36 languages and dialects. The events portrayed in the novel, The Caucasian Menace, could very well develop from the actual situation in that troubled North Caucasus region.
The Caucasian Menace, has political intrigue, espionage and fast-paced violent action, centered on Dagestan, a remote corner of the Russian Federation. This break-away republic has nuclear warheads left over from the Soviet Union. The democratically-elected president has been ousted in a coup, and the usurper is intent on selling some of the warheads to Iran and/or terrorist organizations. He also holds a Russian nuclear physicist whom he intends to sell as well. To prevent interference with his plans, the usurper has nuclear missiles trained on key European capitals.
Neither the U.N. nor NATO will take action. The United States, wishing to avoid a nuclear disaster, cannot take any overt action. CIA operatives Baker and Gold are assigned to help the Loyalist army eliminate the usurper and help the Loyalists to recover the reins of government, while avoiding a nuclear confrontation. They must also rescue the scientist and prevent the sale of nuclear warheads to rogue states or terrorists.
Complicating matters, Baker's wife had been tortured and murdered years before by Thorne, the sadistic mercenary now employed by the usurper. Gold fears that Baker may have killing Thorne as his top priority, rather than capturing him for questioning. Meanwhile, William Bell, their immediate superior, has been selling information to the usurper that could result in failure of the mission and the deaths of Baker and Gold.
These fictional events could very well be a reality, judging by current turmoil reported in Dagestan. The violent events, aimed at obtaining independence from Russia, can be seen in the following reports:
Jan 13 at 20:13 | Paul Goble
Only one young Daghestani in four would turn in to the authorities someone he suspected of being an extremist, according to a recent sociological survey conducted in that troubled North Caucasus republic and one that underscores just how difficult a task Moscow faces in rooting out militants and bringing peace to that republic.
Indeed, according to Salikh Mulimov, a sociologist at Daghestan State University, many of those questions said it would be useful to "organize public discussions with representatives of extremist and terrorist views," hardly an indication that those making this proposal view the latter at beyond the pale.
Last April, the following reports were published by RIA Novosti:
Three police officers were killed and seven injured during a clash with militants in Russia's North Caucasus republic of Dagestan, local police said on Monday.
The clash took place on Sunday morning after a group of militants, suspected for attempting to kill police officers and planning terrorist attacks, were surrounded in a forest in the Karabudahkentsky district of Dagestan, the police source said.
A high-ranking source from the Dagestan security services said Anvar Sharipov, the brother of Moscow metro bomber Miriam Sharipova, was among the militants. The information has not been officially confirmed.
Miriam Sharipova blew herself up in the Moscow metro on March 29 in a series of two blasts that killed 40 and injured dozens more.
Earlier in April, following terrorist attacks in the Moscow metro and in Dagestan, Russian President Dmitry Medvedev ordered the creation of a special anti-terrorism task force in the North Caucasus Federal District.
Russia has been fighting militants in the North Caucasus for almost two decades, including two brutal wars against separatists in Chechnya.
MOSCOW, 12 April 2010 (RIA Novosti)
In view of the current situation in Dagestan, Chechnya and the entire North Caucasus region, the plot of The Caucasian Menace is not far-fetched.
Clark Zlotchew joined the U.S. Naval Reserve at age 17 as Apprentice Seaman, and received an Honorable Discharge as Chief Petty Officer (in Security). He has had a highly diverse set of careers, ranging from sales/production liaison for a large liquor manufacturer in New York to coordinating an educational program for Spanish-speaking seasonal workers to teaching Spanish at several colleges. At present he is SUNY Distinguished Teaching Professor of Spanish. Zlotchew has had 15 books published. His previous work of fiction is the espionage/thriller, TALON Force: Dire Straits, under pseudonym Cliff Garnett (Signet/NAL, 2001)
###