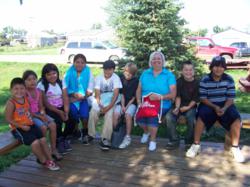 I designed this fellowship to help guide myself & my students from the familiar to the unknown, to help us all connect with new ideas, people, communities and traditions.
Houston, TX (Vocus/PRWEB) February 09, 2011
Growing up in rural West Virginia during the 1960s, Donna Legg was unaware of the anguish and turmoil surrounding the Civil Rights movement. Insulated in a completely Caucasian farming community comprised of families from multiple generations, she and her classmates developed their beliefs based solely on their families' and neighbors'. Now a third grade teacher in the same community, Legg wants more for her students. She applied for and received a $5,000 Fund for Teachers grant and last summer traveled to four culturally and racially diverse corners of America – all in an effort to make the concept of racial equality relevant for her students.
"Many of my students' families originate from our area with roots going back several generations," explained Legg. "Along with great traditions comes stereotyping one believes of themselves, and prejudices and apathy based on lack of knowledge and experiences. I designed this fellowship to help guide myself and my students from the familiar to the unknown, to help us all connect with new ideas, people, communities and traditions."
Legg first drove to South Dakota to visit Dupree Elementary School's students from the Lakota Sioux tribe. After an unplanned visit with the Cherokee Nation in Tahlequah, OK, she then drove south to Dermott, AR, and visited an elementary school with a 99% African-American population (compared to the 1% at her Frankford Elementary). Next, she journeyed to the Deep South to explore the heart of the Civil Rights movement in Montgomery, AL, and meet with a teacher and student from Webb Elementary that has a more balanced racial profile. Finally, she drove north to the mountains of North Carolina and researched the Native American/Hispanic/Caucasian demographic at Swain County East Elementary.
Donna researched a Lakota Sioux school celebration incorporating hand-made quilts; visited the Cherokee Nation's village recreating the Trail of Tears era; ate catfish for the first time in the Arkansas bayou with local teachers; stood behind Dexter Church's pulpit from which Martin Luther King, Jr., preached; signed the Wall of Tolerance at the Civil Rights Museum; and stayed on the Cherokee reservation in the Appalachian Mountains.
"Before starting this project, I was proud to say to myself, 'I don't see the color of one's skin.' And to my students, I would say, 'We are all the same!' But now I know that is not true," said Legg. "I am not color blind and neither are my students. We are not all the same. We have had different experiences at home and in our communities. We have each met individual and cultural challenges with varying degrees of support and we have celebrated our heritages in many, meaningful ways. Our skin color and our cultural background have shaped who we are. That's what makes us so strong and viable! My new way of thinking about cultural diversity has changed not only the direction and emphasis I will place on my curriculum, but has also encouraged me to gain further knowledge of my family heritage and Appalachian culture."
Upon returning home, Legg established pen pal programs between her students and those met on her journey. She secured the support of her school's Music, Art and PE teachers to create cross-curricular themes based on diversity. And using information and materials collected along her route, Legg's students are using PowerPoint to create virtual field trips to one of the four communities, to be presented to the school and the PTO. Legg's hopes to create a student exchange program by the time her students graduate from fifth grade.
"My Fund for Teachers fellowship lit a fire in me and my students," said Legg. "I want my students to know that whether our skin is red, black, yellow or white, or whether we grew up in the Appalachian Mountains of West Virginia, on an Indian Reservation on the plains of South Dakota, the hills of North Carolina, in the Deep South of Alabama, or on an Arkansas Bayou, we have something to offer. I hope these experiences will motivate my students to keep their eyes open to cultural injustice and their hearts open to acceptance of all differences."
Fund for Teachers is a national, donor-supported organization that awards fellowships for summer learning experiences to preK-12 teachers, empowering them to pursue their passions to then pique student engagement. Over the course of a decade, Fund for Teachers has invested more than $14.5 million in educators who, through their own life-long learning, transform classroom experiences for students. For more information, visit fundforteachers.org.
Frankford Elementary in Frankford, WV, is a member of Rural School and Community Trust, a national nonprofit organization addressing the crucial relationship between good schools and thriving communities whose mission is to help rural schools and communities get better together. For more information, visit ruraledu.org.
###