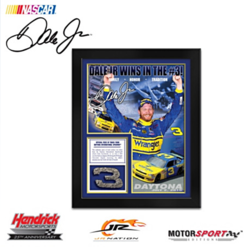 (Vocus/PRWEB) February 10, 2011
Change was the name of the game for the 2010 NASCAR season, especially with the advent of the new NASCAR Hall of Fame®. And more new faces, locations and rules are anticipated for this year.
But one thing never changes: the thrill of the races. Motorsport Editions™ has captured this excitement by offering authentic NASCAR gifts, including NASCAR collectibles and NASCAR diecasts.
Our NASCAR diecast collectibles evoke the bold glory of one of America's most popular sports, from autographed NASCAR diecasts of Richard Petty's 1970 Chevrolet Monte Carlo to commemorative figurines of Hall of Famer Dale Earnhardt.
You can bring racing's legendary action into your home with the NASCAR Hall of Fame Collector Plate Collection. Fully authorized by NASCAR®, this collection brings you collector plate NASCAR collectibles starting with full color historic imagery of Dale Earnhardt, to be followed by Richard Petty, Junior Johnson and other greats. You can display your racing heroes on wooden plate stands, which come free with each of the porcelain plates in this limited-edition collection, offered exclusively from Motorsport Editions™.
Another way to commemorate NASCAR events and greats is by collecting the first-ever limited-edition collection of silver-plated NASCAR collectible coins honoring the inductees of the NASCAR Hall Of Fame®, which include first day covers and collector cards. Issue One is the Dale Earnhardt coin and cover, which will be followed by the Richard Petty collectibles, and then by additional NASCAR coins with commemorative covers. As a bonus, collectors will also receive a deluxe collector's box free to preserve the collection in top condition.
The commemorative coins in this NASCAR Hall of Fame collection are U.S. minted and sealed within transparent protective cases. Plus, the collector cards and coins fit inside their first day covers, which are officially postmarked by the U.S. Post Office in Charlotte on the day of the induction.
The 39mm coins feature vibrant full-color imagery on both sides. They are showcased on collector cards, along with highlights about the inductees' achievements. Details of the specifications for each coin and stamp are also included.
Included in our NASCAR diecast collectibles is the full array of Dale Earnhardt's championship cars. If you want an entire collection of Dale Earnhardt's championship cars right now, you can order a set of his NASCAR diecasts, the "7-Time Champion" Diecast Set , which comes in its own collectible metal case. This limited-edition collector set contains seven 1:64 scale diecast cars, photos, and more.
Earnhardt fans will remember Dale Jr.'s historic tribute to his dad in 2010, when he drove his father's legendary "blue and yellow" colors to victory at Daytona International Speedway. Our limited-edition collectible 'Salute to Dale #3' is a framed print wall décor. It celebrates this historic race with photos of father and son, plus a genuine piece of tire from Dale Jr.'s winning Wrangler Chevrolet.
Of course, Dale Jr., #88, has his own following. One of our great NASCAR gifts – made especially for his female fans – is a Dolly Mama humorous figurine, who carries a sign that says: "If You're Not Dale Jr. I'm Not Interested!" This limited-edition 5" fan is hand-painted, sporting fun details like the lipstick marks on Dale Jr.'s photo and the 88s that cover her boots.
As NASCAR fans revving up for the 2011 season and anticipating more excitement, visit Motorsport Editions™ for a wide selection of racing collectibles and gifts.
# # #