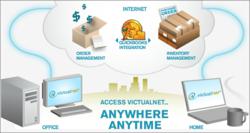 ...drive the creation of more invoices which translates into stronger revenues and better profit margins.
(Vocus/PRWEB) February 10, 2011
Canadian food distributor Glen Echo Fine Foods is the first Canadian user of VictualNet, the web-based alternative to installed-software for food distributors and processors to manage order entry and inventory. This breaks a twenty year advantage the U.S. food industry held over their Canadian neighbors.
"We've been receiving interest and inquiries from our neighbors to the North for almost twenty years, but we've always turned away from the business." Said Paul Hernandez-Cuebas of Integrated Management Solutions about the Canadian food market. "The demand for cost savings available from our food inventory and order entry management software has always been strong, but in the past problems with maintaining remote servers, networks and other hardware made it a bad business deal for both parties. Our new revenue motivation platform VictualNet is web-based. It eliminates the barriers that kept us away from the Canadian market for two decades."
VictualNet is a web-based software as a service (SaaS) offering, so hardware requirements are laughably small—a computer with an internet connection.
Robert Santen and Daniel Kimura, owners of Glen Echo Fine Foods in Toronto Canada, were quick to recognize that the walls were coming down. Eager to have a food distribution software solution they challenged Paul in a positive way to accelerate the release of a kilogram based version of VictualNet to the Canadian market. When asked about their involvement they said, "The business case and value that VictualNet brings to our company is very exciting. We look forward to bringing VictualNet to the Canadian Market with Integrated Management Solutions."
The business case they're excited about is VictualNet's Revenue Motivation Platform, a strategy of focusing the food industry expertise of Integrated Management Solutions through the VictualNet platform to motivate revenue generating opportunities.
Another VictualNet customer Jim Brooke, president of Corfini Gourmet expressed it well when he said "We chose to partner with VictualNet because of their expertise in the foodservice field...As Corfini Gourmet continues to grow, VictualNet will directly benefit and we are thrilled to know they will continue to re-invest in new modules for the platform. New modules like customer online ordering will drive the creation of more invoices which translates into stronger revenues and better profit margins."
Michael Douglas of Primero Foods identified VictualNet's motivational impact on his revenue by looking at when his trucks depart his warehouse. "I'm obsessive about getting our trucks out on the road early. Since we implemented VictualNet I'm seeing the trucks regularly go out a half to a full hour earlier than before. The whole process from order entry, to picking, to invoicing has improved." Increased efficiency equals increased capacity for sales revenue.
Berry Veal's Richard Gioia chose to focus on the reduction of errors in shipping and processing as the effect of VictualNet's Revenue Motivation Platform on his businesss. "For pennies I have a huge savings of time and a significantly reduced chance of errors on every order…I'm processing 120,000 pounds of the highest quality meat in the nation, and VictualNet has increased the efficiency, and therefore the quality and profitability of every pound I process."
When asked if U.S. food distributors suffer from losing exclusive access to Integrated Management Solutions and VictualNet? "Many distributors will actually benefit." Paul replied "A number of U.S food distributors buy from Canadian firms and vice versa. Efficiency and revenue gains for one distributor can have a positive impact on the whole supply chain. For the folks that are directly competing against a VictualNet user…we'll be happy to get them up and running on VictualNet quickly so they're not at a disadvantage for too long."
# # #