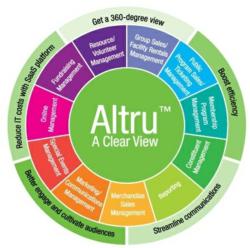 "As AAM continually strives to advocate on behalf of the field and provide outstanding service to our members, we applaud Blackbaud for its inclusion in AAM's member discount program and for providing this new solution at a discount to AAM members."
Charleston, SC (Vocus/PRWEB) February 09, 2011
Blackbaud, Inc. (Nasdaq: BLKB) today announced that three of the leading arts and cultural membership associations; American Association of Museums (AAM), Association of Children's Museums (ACM), and American Public Gardens Association (APGA), will partner with Blackbaud to make technology more accessible for their members.
Blackbaud's Altru solution is the first technology of its kind to centralize all the information a general admissions arts and cultural organization collects so staff members can access a single view of their organization, data, supporters, and audiences.
It presents it in a way that helps staff better plan and execute activities, boosting efficiency. With Altru, staff members can engage and cultivate audiences and supporters more consistently and efficiently across multiple departments. In addition, since the software is web-based, organizations can reduce their IT costs.
"Museums of all types and sizes — from aquariums and historic sites to art museums and zoos — are always searching for more efficient ways to do business, particularly in this economic climate," said Ford W. Bell, American Association of Museums' president. "As AAM continually strives to advocate on behalf of the field and provide outstanding service to our members, we applaud Blackbaud for its inclusion in AAM's member discount program and for providing this new solution at a discount to AAM members."
"The Association of Children's Museums is pleased to announce that Altru, powered by Blackbaud, is now part of the ACM Affinity Partnership Program, which brokers high-quality products or services at a discount for members," said Janet Rice Elman, ACM's executive director. "As an Affinity Partner, Altru offers what our members have been asking for: a unified museum management solution that is priced affordably for most organizational types and sizes."
"The American Public Gardens Association is committed to raising the professionalism of our member gardens," said Daniel J. Stark, APGA's executive director. "In today's uncertain economic climate, we know that our members need a competitive edge in all areas of their business, as well as the ability to streamline their operations. Therefore, APGA is pleased to offer the Altru Affinity Program to provide a discount on Altru to our APGA member gardens."
Through these partnerships, members of these associations will receive exclusive discounts on Blackbaud's Altru™ solution, which is specifically designed to improve the overall management of general admissions arts and cultural organizations.
"We are pleased to partner with these leading arts and cultural associations and to extend the power of the Altru platform to their member organizations," said Jay Odell, Blackbaud's vice president and general manager, Altru. "Altru will provide these organizations with a better, more efficient way to cultivate supporters, sell and schedule programs, manage their earned and contributed revenue, and keep everyone focused on the mission."
To learn more about Altru, visit blackbaud.com/altru where you can hear from customers, watch a product demonstration, or chat live with a Blackbaud representative.
About Blackbaud
Blackbaud is the leading global provider of software and services designed specifically for nonprofit organizations, enabling them to improve operational efficiency, build strong relationships, and raise more money to support their missions. Approximately 24,000 organizations — including The American Red Cross, Cancer Research UK, Earthjustice, International Fund for Animal Welfare, Lincoln Center, The Salvation Army, The Taft School, Tulsa Community Foundation, Ursinus College, the WGBH Educational Foundation, and Yale University — use one or more Blackbaud products and services for fundraising, constituent relationship management, financial management, website management, direct marketing, education administration, ticketing, business intelligence, prospect research, consulting, and analytics. Since 1981, Blackbaud's sole focus and expertise has been partnering with nonprofits and providing them the solutions they need to make a difference in their local communities and worldwide. Headquartered in the United States, Blackbaud also has operations in Australia, Canada, Hong Kong, the Netherlands, and the United Kingdom. For more information, visit http://www.blackbaud.com.
Media Contact:
Melanie Mathos
Blackbaud, Inc.
843.216.6200 x3307
media(at)blackbaud(dot)com
Forward-looking Statements
Except for historical information, all of the statements, expectations, and assumptions contained in this news release are forward-looking statements that involve a number of risks and uncertainties. Although Blackbaud attempts to be accurate in making these forward-looking statements, it is possible that future circumstances might differ from the assumptions on which such statements are based. In addition, other important factors that could cause results to differ materially include the following: general economic risks; uncertainty regarding increased business and renewals from existing customers; continued success in sales growth; management of integration of acquired companies and other risks associated with acquisitions; risks associated with successful implementation of multiple integrated software products; the ability to attract and retain key personnel; risks related to our dividend policy and share repurchase program, including potential limitations on our ability to grow and the possibility that we might discontinue payment of dividends; risks relating to restrictions imposed by the credit facility; risks associated with management of growth; lengthy sales and implementation cycles, particularly in larger organization; technological changes that make our products and services less competitive; and the other risk factors set forth from time to time in the SEC filings for Blackbaud, copies of which are available free of charge at the SEC's website at http://www.sec.gov or upon request from Blackbaud's investor relations department. All Blackbaud product names appearing herein are trademarks or registered trademarks of Blackbaud, Inc.
# # #