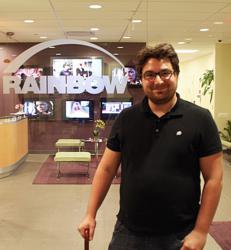 Sarasota, FL (Vocus/PRWEB) February 09, 2011
Ringling College of Art and Design today announced the 2011 season lineup for its Digital Filmmaking Studio Lab. Creating a new model for film education combining academic and economic benefit for Ringling College filmmaking students and the greater Sarasota region, Ringling College and Future Films LLC today presented the integral elements of the 2011 program season incorporating industry expertise, academic excellence, and economic development.
Ringling College's Digital Filmmaking academic major is now in its fourth year, graduating its first class this May. The Digital Filmmaking Studio Lab was created in 2010 to generate a level of professional filmmaker and production engagement to build Ringling's academic program to international reputation, along the lines of its Computer Animation major, by combining the excellent academic and artistic focus of the Digital Filmmaking academic program with the industry participation afforded by the Studio Lab.
"Ringling College is recognized as the number one computer animation program in North America, and our constant focus for the past year has been to build our new digital filmmaking program to the same stature," stated Dr. Larry R. Thompson, Ringling College president. "Since the launch of our Digital Filmmaking Studio Lab in 2010, we have seen an increase in number of applications to the academic program and we are attracting increased attention from the film industry, which offers a dynamic benefit to our student body and our community."
The three symbiotic elements providing the foundation are industry engagement (Studio Lab visiting filmmaker series), a robust and demanding academic curriculum and the economic and community development initiatives (the on-campus professional post-production facility and the "Ringling Reels and Retrospectives" series at Burns Court Cinemas, co-presented by the Sarasota Film Society, Ringling College, and Future Films, LLC.)
Industry
The visiting filmmaker component of the Studio Lab program expands significantly in 2011, with Bill Paxton and R. Scott Thomson on campus February 17th, Martha Stewart on February 24th, Werner Herzog on March 15th, and Andy Garcia and Paul Schiff on April 5th.
In addition, Ringling College has entered into long-term agreements with Director Werner Herzog and Producer Paul Schiff. Besides bringing Mr. Garcia on campus April 5th for a screening of "City Island," Mr. Schiff has been retained to consult on project and production development for the Digital Filmmaking Studio Lab and its post-production facility. He will also be interviewing and hiring student interns from Ringling for various projects. Based upon the strength of the Digital Filmmaking Studio Lab, Mr. Herzog has agreed to his first official academic relationship to become a charter advisor to Ringling College and has also scheduled post production for his "Death Row" project using Ringling students on campus March 11th-15th.
Academic
Expanding the academic curriculum component an agreement has been reached with the Independent Film Channel (IFC) and Rainbow Entertainment to conduct an annual contest for juniors majoring in Ringling's Digital Filmmaking program. Each year, the winner will get the opportunity to pitch their senior thesis film to IFC programming development executives at Rainbow's NYC headquarters. (Photo available of 2010 contest winner Jason Letkiewicz at Rainbow Headquarters.)
With its emphasis on Story, and hands-on intensive learning, utilizing industry-standard practices and state-of-the-art equipment, the Digital Filmmaking program at Ringling College is fast becoming one of the premiere film schools in the country. In addition to the Studio Lab, the academic program has hosted a number of film and television industry pros during the past year to enhance the students' learning experiences. Our notable guests have included director Donald Petrie ("Miss Congeniality"), Ringling alumnus and Emmy-award winning television director Ray Dillman, Fox Network VP of Physical Production Sue Bugden, executive producer Ron Bozman ("Silence of the Lambs"), television writer John Cockrell ("In Plain Sight"), sound expert Ron Scelza ("The Glades"), script supervisor Sandra Cole, Warner Brothers President of Feature Animation Max Howard, and producer and visiting guest faculty Amy Robinson ("Julie and Julia").
Economic & Community Development
On the economic development front, Ringling College's efforts to accelerate Sarasota's potential as an entertainment production destination received significant support from the County with the provision of $1.75-million grant toward the construction and equipping of a 3,000 square foot state-of-the-art professional film and television post-production facility on campus. Preliminary plans for this facility include a private screening room and dubbing bays, professional editing suites, and a foley (sound effects) stage, as well as data centric storage capabilities allowing multiple personnel to work on the same production at the same time from various work stations. The post-production facility will provide a vital academic link to the Digital Filmmaking Studio Lab with the availability of students working alongside professionals. The overarching economic benefit of the post-production facility will be to help catapult Sarasota into a viable alternative outside of New York and Hollywood to major feature film and television programming producers. Ringling's post facility will be a tremendous complement to the resources the recently unveiled Sanborn Studios offers in production capabilities.
Emphasizing the importance of this much needed capability is the decision of Mr. Herzog to conduct post-production of his 'Death Row" project on campus March 11th-15th as detailed earlier in this release. Ringling and Future Films, LLC expect to be announcing additional post-production projects in the near future.
In engaging the community, the "Ringling Reels and Retrospectives" film series conducted in concert with the Sarasota Film Society is providing interested film aficionados with unique insights into the film development and production process by scheduling screening and discussions with eminent film makers. First up on the 2011 "Ringling Reels and Retrospectives" series is a screening of 'Twister" on Saturday, February 19th with an expected Q&A from Bill Paxton and fellow actor R. Scott Thomson and "Z CHANNEL" March 14th with Q&A following the screening with F.X. Feeney, Marshall Persinger, & Werner Herzog. Both screenings are free and open to the public and will be held at the Burns Court Cinemas.
Conclusion
"We have developed a robust academic, industry and economic development program around digital filmmaking that has all the components needed to help pave the way for filmmaking to become a major economic driver in this region," said Dr. Larry R. Thompson. "Every year our most promising and well-prepared students are recruited by the top studios in the world and leave our area seeking work and professional accomplishment. The many coordinated elements of our growing Digital Filmmaking Studio Lab and academic program are laying the groundwork with which to retain some of our best and brightest talent and to help us drive the entertainment production economic engine in our region."
About Ringling College of Art and Design
Ringling College of Art and Design is a private, not-for-profit, fully accredited college offering the Bachelors of Fine Arts degree in 13 disciplines: Advertising Design, Computer Animation, Digital Filmmaking, Fine Arts, Game Art & Design, Graphic & Interactive Communication, Illustration, Interior Design, Motion Design, Painting, Photography & Digital Imaging, Printmaking and Sculpture, and a Bachelor of Arts degree in the Business of Art & Design. Located on Florida's Gulf Coast, the picturesque 50-acre campus now includes more than 110 buildings, and enrolls 1,368 students from 46 states and 44 countries. It is recognized as being among the best and most innovative visual arts colleges in the United States as well as a leader in the use of technology in the arts. http://www.Ringling.edu
About Future Films, LLC.
Future Films leverages unique opportunities in media production and content as the old models rapidly change, focusing on convergences between traditional and new media. Co-founders Sam Logan (Sarasota) and David Shapiro (New York) are bringing to bear their extensive relationships in the film and TV industry to provide for rapid development of the Ringling Digital Filmmaking Studio Lab, a groundbreaking project that combines education with film development. The Studio Lab is designed to provide Ringling College of Art and Design students have hands-on experience with top-tier directors, producers, writers, and cinematographers as well as to help Sarasota become an integral part of the film industry.
Media Contact:
Rich Schineller
941-780-8100
###