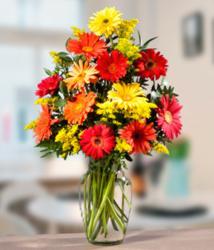 We envisage offering our customers the ability to deliver flowers anywhere in the world. And that day is coming
Miami, FL (Vocus/PRWEB) February 09, 2011
Online flower delivery company daFlores.com has expanded into eight new countries, continuing its commitment to become a truly global concern. Originally founded in 2000 as a flower delivery company for the Hispanic community, daFlores has been adding new countries to its network of florists ever since.
"We're strongly established in the Americas," explains Francisco Bustos, CEO and President of daFlores.com. "We started adding florists in Asia and Europe last year. Our world is mobile: distance shouldn't be a barrier when your girlfriend takes a job in China or a company wants to impress a client in Israel. Our business model, which relies on experienced, carefully-chosen local florists, is ideal."
Thanks to this new expansion, daFlores.com can arrange for you to send flowers to, or from, Israel, Vietnam, Bulgaria, Trinidad and Tobago, Singapore, Romania, Thailand and Indonesia. The daFlores.com website is already one of the most-translated flower delivery websites in existence; more languages are planned to better accommodate customers.
"We will continue to expand," says Mr. Bustos. "We envisage offering our customers the ability to deliver flowers anywhere in the world. And that day is coming."
About daFlores International Flower Delivery Company
DaFlores.com is part of Flores a Colombia, Inc., a United States corporation. The international flower delivery company is based in Miami, Florida, with its success founded on years of experience and a strong family ethic. DaFlores.com offers flower delivery to a growing range of countries in Europe, Asia and the Americas.
# # #