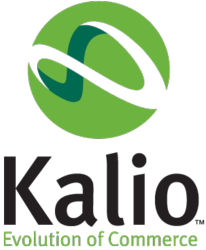 Cupertino, California (Vocus/PRWEB) February 14, 2011
Leading e‐commerce software firm D.M.insite today announced that it was merging with IT services firm Moyo Group and changing its name to Kalio(tm) (http://www.KalioInc.com) in a move that unites two long‐time partners and gives customers greater flexibility and choice for their e‐commerce solutions.
Kalio's implementation, hosting, and sales capabilities will double, helping meet the growing demand for Kalio products. The announcement was made at the Internet Retailer Web Design and Usability 2011 Conference in Orlando.
The existing D.M.insite line of highly successful Software as a Service (SaaS) e‐commerce products will be retained and expanded under the new Kalio name, and the company's solution will now be branded KalioCommerce(tm).
"This merger allows Kalio to extend its reach and gives customers an even more robust product offering," said D.M.insite founder and chief executive officer Larry Kavanagh, who will now become CEO of the new merged company. "This gives customers the best of both worlds—a world‐class software platform and a world‐class IT support system on which to operate.
"KalioCommerce has been extremely well‐received in the marketplace to the point where we really needed to very quickly ramp up our ability to deliver. Kalio will represent not just the positive legacy of D.M.insite but also the expanded service offering of the Moyo Group. The new company name and brand reflect our growing breadth and sophistication."
Terms of the merger were not disclosed. The new company will be headquartered in Cupertino, CA., and will retain its customer support, site deployment and sales offices and facilities in greater Cincinnati.
"We've been part of the Kalio solution for a long time, so a merger made a lot of sense," said Moyo Group CEO Mark Richards, who will remain with Kalio as President of the Infrastructure Services Group. "This is an opportunity to participate more deeply in Kalio's dynamic vision and growth, and we are pleased to contribute our decades of experience in managing secure SaaS data centers and implementing sophisticated software systems."
Moyo Group was founded in 2002 by IT industry veterans in Silicon Valley to provide outsourced IT skills to growing companies. Moyo Group has recently built a practice around deploying Kalio products for retailers who needed more flexibility than other e‐commerce platforms provided. Moyo Group also provides IT project management, hosting, and integration services, and has provided Kalio's hosting infrastructure for several years.
Founded in 1999 as D.M.insite, Kalio is an industry leader in the e‐commerce field, known for its experience in the direct marketing, retail, and mail order catalog fields and for giving online retailers a significant competitive edge. The company's e‐commerce application typically increases Web sales by 50 to 100 percent during the first year.
The most recent release of KalioCommerce represents the evolution of e‐commerce to a highly‐ configurable application. KalioCommerce is a true Software as a Service e‐commerce application, offering merchants the advantages of a single code base, reliable monthly feature upgrades, unlimited scalability, extreme ease in client self‐service, and a world‐class feature set.
The company's organization and operations remain unchanged. All client services and sales personnel can still be reached through the same e‐mail, phone, and other contact information.
About Kalio, Inc.
Kalio develops and delivers Software as a Service e‐commerce applications for leading retailers and catalogers. KalioCommerce(tm) (formerly Mercury Platform(tm)) is the company's flagship e‐commerce application that gives clients unprecedented freedom and flexibility to manage, design, and promote their own sites in ways that were previously only available to them through custom coded solutions. KalioCommerce enables merchants to grow their online businesses at rates often more than double the industry average. In addition, merchants enjoy high performance, stability, and regular monthly rollout of new selling features. The company also offers KalioMail(tm), the e‐mail marketing software with built‐in best practices for e‐mail segmentation, automation, and deliverability. Founded in 1999 as D.M.insite, the company changed its name to Kalio, Inc. in February 2011. Kalio has offices in Cupertino, California and in the Greater Cincinnati area. To learn more, visit http://www.KalioInc.com or call 859.261.8700.
For more information
Brad Curtis
(415) 306‐2110
bcurtis(at)KalioInc(dot)com
# # #