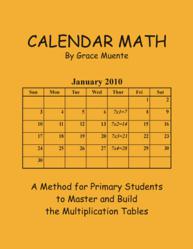 Campbell, CA (Vocus/PRWEB) February 11, 2011
Calendar Math, a new book by Grace Muente, has been released by RoseDog Books.
When a student discovers he/she can get answers right on the 7 Base calendar by using 7 in the equations of dividing, multiplying, adding, or subtracting, he/she is amazed, believe it or not.
Check out Grace Muente's book, Calendar Math. These pages have plenty of answers and information. By adding numbers to the bottom of any calendar, you can get answers to the whole times tables.
Students find they can build other Base Calendars of 2, 3, 4, 5, 6, 7, 9, and 10. They can also get four starting answers to each times table.
Someone can trace a student's own handprint and put ten equations on the ten fingers for each table. They do prove we all live in a world of numbers.
Grace Muente graduated from the University of Wisconsin in Milwaukee, where she taught second and first grades in several places, then she moved to Washington State and taught in several other towns. Her longest stint in teaching first grade was at Mount Baker Schools in Deming, Washington, and William Castles was the best superintendent. The kids were great. Muente still hears from some of them.
Grace Muente taught her last two years overseas for the Department of Defense in Heilbronn, Germany. Most of the students spoke English. Today teachers have all sorts of problems when their students don't know English, especially in kindergarten and first grade. After retiring from teaching, she wrote Calendar Math and also her reading book, Reading Is Written Down Talk.
Calendar Math is a 76-page paperback with a retail price of $12.00. The ISBN is 978-1-4349-8199-8. It was published by RoseDog Books of Pittsburgh, Pennsylvania. For more information or to request a review copy, please visit our virtual pressroom at http://www.rosedog.com/pressroom or our online bookstore at http://www.rosedogbookstore.com.
# # #