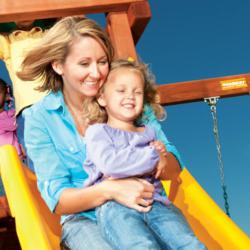 Woodplay Playsets is proud to serve a second generation of children.
Raleigh, NC (Vocus/PRWEB) February 09, 2011
In a business climate heavy on downsizing, closures and international outsourcing, Woodplay, the original redwood playset company, is starting its 37th year in Raleigh, N.C. Many of the employees working today were hired when the company started fulfilling kids' outdoor play dreams with wooden swing sets in 1975.
Parents who grew up with Woodplay playsets are now buying the structures for their own children with slides, swings, tunnels, telescopes, racing wheels and lookout decks. Today's kids may have many more high-tech entertainment choices at their fingertips, but the appeal of outdoor adventures with personal backyard swing sets never goes away.
Because of the playground manufacturer's staying power, Woodplay is proud to serve a second generation of children. Parents now, who were among the first generation of Woodplay children, can find the same quality and safe play that their parents sought out for them. Woodplay also plans for future generations with its industry-leading commitment to the environment.
That commitment starts with the wood Woodplay buys. The heavy-duty redwood and other timber species the company uses are not only among the strongest woods available, they are naturally resistant to insects and decay. That resistance means the playsets don't need dangerous chemical preservatives (unlike wood species that use pressure treating to artificially extend product life).
Redwood, harvested mostly from California, is one of the fastest-growing tree species which makes it a highly sustainable resource. Woodplay also works with the Sustainable Forestry Inititiave (SFI) to plant five trees for every one harvested to insure the beauty of the redwood forests lasts for generations.
Woodplay has invested in advanced wood milling technology, which minimizes waste, and the company aggressively recycles to keep materials out of the waste stream.
Its water-based wood stains are low in VOCs (volatile organic compounds) and safe for children, pets, wildlife, and the air we breathe.
The wooden swing sets are a win-win for families. Parents get the assurance that the playground equipment is safe, top-quality, professionally installed and environmentally friendly. Kids get the anticipation of an action-packed summer filled with exercise and exciting discoveries. The simple promise to families is the same one made more than three decades ago: Every day is a great day in Woodplay.
###