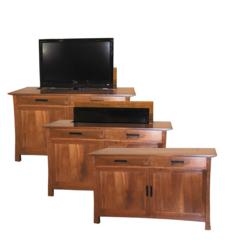 Mountain View, California (Vocus/PRWEB) February 10, 2011
The Saito TV Cabinet is a finely-crafted, solid wood furniture piece that incorporates the best in TV lift technology to maximize any living space. Instead of an unsightly TV dominating the room or a bulky, over-powering cabinet trying to hide the TV, the Saito TV Cabinet at Gingko can lower or raise the television quickly and securely with the touch of a remote control. This products versatility accommodates television screens between 20" and 65". The lift mechanism is both silent and smooth and also can be rotate the television to obtain the perfect viewing angle.
This fully integrated cabinet will also holds the DVD, DVR, game consoles and other AV equipment. The cabinet can be custom configured to your requirements and designed in the multiple styles all built of solid Walnut. With prices starting at $2995, the Saito TV Cabinet with Media Lift is an extremely affordable option. The solution is on display at Gingko in Mountain View.
Gingko is proud to have the finest Custom Made Furniture Bay Area wide including beautiful solid wood furniture and modern Asian furniture like the Tansu Cabinet. Gingko has interpreted timeless aesthetics in a decidedly contemporary mode to create a unique line of furniture at home in many interiors. Gingko's designs are inspired by classical forms interpreted with the modern home in mind making for timeless, beautiful Solid Wood Furniture Bay Area.Gingko is located at 2496 West El Camino. Please visit our website at http://www.gingkofurniture-bayarea.com or give us a call at 650-396-7466.
# # #