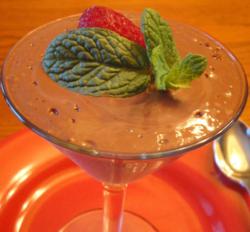 "Romantic dinners require seductive desserts," says Fenster, "so chocolate with its erotic associations is ideal…such as a smooth, creamy Chocolate Mousse."
Denver, CO (Vocus/PRWEB) February 09, 2011
Entertaining with a romantic, at-home dinner for two is easy---even if your guest is gluten intolerant---if you prepare simple dishes that are based on carefully-selected ingredients with a lot of flavor, says Carol Fenster, an expert on gluten-free cooking and author of Gluten-Free 101. Her menu of Salmon Packets, Salad, Toast Points, and Chocolate Mousse is perfect for such occasions.
"The romantic occasion could be Valentine's Day or any other festive occasion with a celebratory mood such as a birthday dinner for that special someone, a wedding anniversary, or even the anniversary of a couple's first date," says Fenster, who is gluten-free herself. Here is a very simple, yet seductive gluten-free meal that will delight everyone. These recipes serve two, but are easily doubled or tripled for a larger group.
Start with easy appetizers of olives and roasted nuts, gently heated in the microwave to heighten their flavors. For each serving of Salmon Packets, place a 12-inch square of parchment paper on the countertop. On each square, layer a 4-ounce salmon fillet (skin removed), 1/4 cup shredded carrots, a few 1/8-inch strips of red bell pepper, 1 tablespoon chopped parsley, and 1 teaspoon Dijon mustard. Add salt and pepper, drizzle with olive oil, wrap deli-sandwich style, twist the ends together to prevent leaks, and place on a baking sheet. Coat each packet lightly with cooking spray.
Bake in a preheated 425 degree oven for 12 to 15 minutes or chill overnight and then bake 15 to 20 minutes. When done, place each beautifully-browned packet on a dinner plate and cut it open with scissors (careful, the steam is very hot). Serve immediately, accompanied by a crisp, colorful green salad.
"Bread is important to gluten-free people," says Fenster, who trims the crusts from slices of store-bought gluten-free sandwich bread, brushes them with olive oil, and browns them under the broiler. She then rubs the warm slices with a cut garlic clove and halves them into triangles for Toast Points that can be eaten separately or placed decoratively on the salad.
"Romantic dinners require seductive desserts," says Fenster, "so chocolate with its erotic associations is ideal…such as a smooth, creamy Chocolate Mousse." In a blender, puree one-half package (10 to 12-ounce size) of soft silken tofu (use remaining half for a smoothie), 3 tablespoons each unsweetened cocoa powder and agave nectar or honey, and a tablespoon of vanilla until very, very smooth. If your diet allows, add a teaspoon of rum or Kahlua for each serving for a festive air. Divide between two small wine goblets or martini glasses and chill for at least 4 hours or overnight. Serve, garnished with fresh berries and mint.
"Candles, flowers, wine, romantic music, and a caring attitude about your guest's enjoyment of the food complete the setting for this memorable meal," concludes Fenster.
Carol Fenster, Founder and President of Savory Palate, Inc. is the author of 10 gluten-free cookbooks including the award-winning 100 Best Gluten-Free Recipes (Wiley, 2010). She also develops the gluten-free line of products for Bob's Red Mill and is a spokesperson for the National Sorghum Checkoff.
###