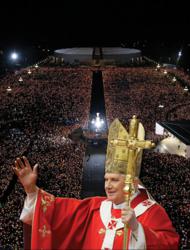 Fatima Bishop Joins Many Fatima Experts and Relatives of the Seers for a Unique Fatima Conference.
Fatima, Portugal (Vocus/PRWEB) February 10, 2011
"The Most Important Fatima Conference of Our Times" delves into the Message of Fatima, the Secrets, the Miracles, the fulfillment of the prophecies throughout history and why Pope John Paul II stated that, "The Message of Fatima is More Important Now Than Ever." The conference also reflects on why Pope Benedict XVI stated at the Fatima Shrine on May 13, 2010 that, "We would be mistaken to think that Fatima's prophetic mission is complete."
On March 23-30, 2011 the World Apostolate of Fatima will bring Fatima experts together at Domus Pacis, the three star hotel it owns located across the street from the Fatima Shrine in Portugal. The Apostolate is a Pontifical Association and speaks with ecclesiastical authority on the message of Hope received by three shepherd children from Our Lady of Fatima in 1917. A message to help people bring God back into their lives and cultures, achieve eternal salvation, and bring about peace. It is also a message that came with warnings about worldly difficulties if we make bad choices.
For the first time in history, leading experts on Fatima will come together to explain the power of the authentic message of Fatima - to fix the problems we face personally and globally in today's world.
Michael La Corte, the Executive Director of the World Apostolate of Fatima, USA said, that, "The "best of the best" Fatima experts, including relatives of the Fatima seers, renowned Fatima authors, Fatima speakers, and confidants of Sister Lucia, are joining for the first time to help people understand the urgency of Pope John Paul II's words about Our Lady of Fatima's Message. Father Andrew Apostoli, frequently seen on EWTN TV, and who just completed the book, "Fatima for Today" is the conference leader.
Among the many speakers who will be talking with participants are: His Excellency Antonio Marto; Bishop of Leiria-Fatima, His Excellence Serafim Silva; Bishop Emeritus of Leiria-Fatima and Confidant of Sister Lucia, Fr. Virgilio Antunes; Rector of the Fatima Shrine, and Msgr. Luciano Guerra; Rector Emeritus of the Fatima Shrine. More conference information is available at http://www.wafusa.org.
Nuno Prazeres, the International Secretariat of the World Apostolate of Fatima, whose grandfather was a best friend to Francisco Marto, one of the three seers, states, "the program we have prepared for you goes beyond imagination. It will make you experience Fatima just as if you were here when Our Lady came in 1917. You will visit the sacred places, you will learn the message, you will pray with your heart and mind before Our Lady's statue and you will experience the peace that only God can give." This is not your standard Fatima tour.
This opportunity has never been offered before and may never be offered again, don't let this opportunity pass you by! The conferences will be conducted in English.
Reservations can be made through WAF/Blue Army Tours at 800-228-4654, Ext. 208 for Lucille. For general information – http://www.wafusa.org or email Michael La Corte at soul(at)bluearmy(dot)com.
The World Apostolate of Fatima, previously known as the Blue Army, was elevated to a Public Association of the Faithful under the Pontifical Council for the Laity. Its mission is to help people Learn, Live and Spread Our Lady of Fatima's Message in communion with the Catholic Church and in concert with the new evangelization. The Apostolate is active in over 100 countries and has many millions of members. The World Apostolate of Fatima is the only Fatima organization that speaks with ecclesiastical authority on the message of Fatima. Its national office is located at the National Blue Army Shrine of the Immaculate Heart of Mary in Washington, NJ. For further information, contact Michael La Corte at service(at)bluearmy(dot)com or 908-689-1700. The Apostolate International office is located at Domus Pacis Hotel in Fatima Portugal at waf_fatima(at)domuspacis(dot)com
###