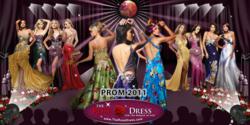 The Rose Dress offers large selection of latest styles in fashion, beautiful aesthetics, and fabulous amount of creativity.
(Vocus/PRWEB) February 11, 2011
TheRoseDress.com is one of the fastest growing online special occasion sites with over 50 brands and is one of the leading online retailer for prom dresses, homecoming, bridesmaid, and other categories including formal evening, cocktail, pageant, wedding, flower girl, plus-size, mother of the bride/mother of the groom dresses and gowns. Their dresses embody vibrant colors and celebrate beauty, resulting in truly contemporary, eye-catching designs. The Rose Dress offers large selection of latest styles in fashion, beautiful aesthetics, and fabulous amount of creativity. Aside from the appeal, The Rose Dress also offers fast delivery time, best-buy prices and a no-doubts customer service that allow customers to view the entire ordering process and easily track their UPS packages with a click of a button from customers record page. Thanks to their organized ordering, processing and delivering system, customers can now take advantage of great buys for high-quality dresses and have them delivered right at their doorsteps on time and in very good condition. The Rose Dress' business motto is "Large Selection, Beautiful Designs, Fast-Delivery, Best-Buy Prices and Outstanding Customer Service."
The key to The Rose Dress' success is their ability to go with time rather than just staying put. That being said, The Rose Dress spent countless of months trying to score deals with several of higher end designers. Such as Tony Bowls and Mon Cheri, two of the most known selection of special occasion dresses, have joined the Rose Dress, which is not an easy task for most retailers. Tony Bowls and Mon Cheri have exquisite designs for the most polish of women. Celebrities like Holly Madison and Vanessa Simmons have been seen wearing their gowns. Another great addition is Night Moves, which constantly appear in Seventeen and Teen Prom. And last, but not least, Nina Canacci, who elaborate designs have grace many of the covers of prom magazines.
With all of the fuss made about the new designers, The Rose Dress does not want their customers to forget about their other high end designers. Alyce Designs continue to deliver high quality designs to their clients, as well as amazing embellishment and details. This year's collection is one of the designer's best collections, symbolizing youth and opulence. Another well quality designer is Jasz Couture, who continued their new line for this season using poly silk material and different cuts of patterns for their dresses. And lastly, Terani Couture, who is a new rising favorite for the Rose Dress. Introducing a new perspective of designs for prom, Terani Couture has opened up the idea of luxury but for the young and sophisticated. New money is on the rise and Terani Couture made sure that even teens look like movie stars.
Prom season is just around the corner and you need to come across a dress as soon as possible. Many women find it very difficult to buy a prom dress as a dress can cost a lot. TheRoseDress.com is one of the best websites to turn to when you need to find an affordable prom dress. Although The Rose Dress has acquired so many brand new high end designers, they also have updated their collection for their non designers. Cinderella Divine has been a brainstorming the trends for Prom and has delivered a promising collection of dresses for their young buyers. May Queen, always one of the best non-designer s, has commit themselves to being the best of the best, and have deliver an amazing collection. Nox Nariana, another well known brand, has made it their mission to make sure that this prom will top all proms, and delighted their buyers with a smooth version of their past styles and created emphasis on their fabrics.
Wearing the greatest prom dress available may seem like a daunting mission. The difficulty can seem even more overblown when searching for a plus size dress. Whether you're looking for a simple prom gown or a formal prom dress, there are many plus-size options available to you. One of the best resources for plus-size prom dresses is the TheRoseDress.com. The Rose Dress offers the largest collection of plus size and wide size dresses and customers are able to search by designer, color, size, price range and sub-categories. Night Moves, a new designer for The Rose Dress, has provided an extensive line of new designs for their curvy clients. Faviana Couture, a staple for plus size women, has never cease to impress, creating a new plus size line that is edgy and attractive.
Looking for a prom dress that is modest is sometimes a hard thing to do. Most designs have low cut necklines, are strapless, or have slits that come too high for most clients. The Rose Dress has the most beautiful and modest dresses available in the market. Terani Couture and Alyce Designs have designed an old Hollywood inspired collection, yet remain modern and stunning. Modest is not boring, but a tasteful expression for young sophisticates. Take advantage of The Rose Dress's choices and then dance your socks off and feel beautiful doing it!
If you have it, why not flaunt it? Many young people get excited around prom time. Prom is an exit from the high school era and an entrance into something new. It is full of glitz, glamour, and exuberance. Prom is something all teenage girls dream about, and they will treasure the evening for many years to come. One of the most exhilarating parts of going to prom is getting the right dress. You should start looking for your dress weeks or maybe even months in advance. Make sure you give yourself sufficient time to find everything you'll need for your special evening including shoes and accessories. The Rose Dress has a large number of sexy prom dresses with fast shipping. Cinderella Divine, Faviana, Nina Canacci, Terani Couture, May Queen, Tony Bowls are just a few designer brands that offer sexy prom dresses and are available on TheRoseDress.com.
Prom night is one of the most eagerly expected events of high school. If you want to make the biggest evening of your life a night to hark back to, plan and shop early for the gown you want. As much as you wish to be dressed in prom dresses for 2011 that are made by renowned fashion designers, you and I know this would be thorny in a practical circumstance. There are definitely wide mixtures of gorgeous dresses that are alternatives to those designed by very famous fashion designers. And you do not have to worry because you can always search for their features on the web and go adopt it for your own prom dress. Meanwhile, you can also surf for the most recognized fashion dresses online which you can find dresses for prom that can be suitably perfect for you. TheRoseDress.com offers prom dresses at very practical prices. These dresses start at prices as low as $60 or $80, very elegant and from very good designers such as May Queen, Aspeed Desings, Poly USA, Pelicana, Cinderalla Divine and more.
TheRoseDress.com Office/Warehouse is located in San Jose, California with over 7,500 square feet in size. There are over 30000 in-store dresses available for immediate delivery/shipping which makes it possible for customers to receive orders overnight. Catalog database shows all items that can be ordered, and In-Stock inventory database shows all items at the warehouse that can be shipped out immediately. To qualify for wholesale, customers are required to purchase twenty dresses (non-sale item) or more. For any questions, visit our website TheRoseDress.Com and our friendly customer service representatives will be more than happy to assist you via chat or send us an email to askus(at)therosedress(dot)com.
# # #