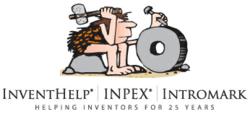 Pittsburgh, PA (PRWEB) February 11, 2011
InventHelp®, America's largest inventor service company, announces that one of its clients, an inventor from Maryland, has designed a clamping assembly which would secure walking canes in an upright position. This invention is patented.
Harold's Walking Aid would allow for a user's cane to remain easily accessible when not in use. In urgent situations, the accessory would provide safe access to a cane and would eliminate the need to reach. Designed to easily attach and remove, Harold's Walking Aid could provide comfort and convenience to individuals with limited mobility.
Harold's Walking Aid would consist of a spring-loaded pin and an additional clamp incorporated in a perpendicular orientation. The center of the cane-clamping jaws would feature a circular cutout to fit around a walking cane securely. The jaws would also feature rubber edges to protect the cane and surfaces from damage. A tie cord would be located around the head of the cane and would attach to the tie ring located on the pin. A user would clamp the walking cane to a surface, such as a table or railing to support the walking cane in an upright position. Harold's Walking Aid could be producible from wood, metal or plastic in various sizes.
InventHelp® is attempting to submit the invention to companies for review. If substantial interest is expressed, the company will attempt to negotiate for a sale or royalties for the inventor. For more information, telephone Dept. 05-ROK-540 at (800) 851-6030.
# # #