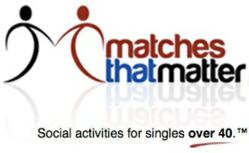 We recommend taking time to reflect on what makes you feel pampered and special.
Oakland, Calif. (Vocus/PRWEB) February 10, 2011
No date for Valentine's Day this year? The experts at Matches That Matter, the social introduction service for singles over 40, have a suggestion for you: celebrate yourself.
The company unveiled its Valentine's Day membership special: Join Matches That Matter by Valentine's Day for half off. Just $99.
"Many of us get caught up in the mass-market hype of Valentine's Day," said Odette Pollar, Founder and CEO. "However, if we don't have a significant other, we tend to feel depressed or saddened. We recommend taking time to reflect on what makes you feel pampered and special." It's different for everyone, but here are some great ideas:

Bask in the glow of friendship. We all need to take a break from work and enjoy a good meal with friends—this time, forgo the fancy restaurant and go for the intimate atmosphere in your home. The love and the laughter are priceless.
Take a hike. Valentine's Day is on a Monday, but that doesn't stop you from celebrating on Sunday. With the glorious SF Bay Area weather, find a great trail and enjoy the sun. Better yet, add friends and a picnic and make a day of it.
Dinner and a Movie. Arrange to meet a group of friends after work for a quick bite. After dinner, meet at the house with the comfiest sofa and the biggest TV to watch a classic movie like Casablanca. Don't forget the buttered popcorn.
Treasure Hunt. Visit http://www.geocaching.com. Organize a group of friends and start GPS treasure hunting. It's fun, memorable and – be careful – addicting.
MatchesThatMatter.com. Check out the newest social network for singles over 40. Take advantage of the Valentine's Day special offer: Join by February 14 for just $99. Bring your friends along as well.
The Match Flight Difference
Like a well-planned dinner party, a Match Flight brings together a group of compatible, eligible singles over 40. The assembled teams work together on projects for not-for-profits and other community groups. In addition, groups may explore social activities and take part in skill-building courses. Match Flights have included winemaking, beach restoration, and various educational adventures.
About Matches That Matter
Headquartered in Oakland, CA, Matches That Matter provides an alternative for Bay Area singles over 40 to get acquainted with one another while serving the community. With an emphasis on personal service, Matches That Matter creates small groups that meet to complete meaningful projects for not-for-profit and cultural organizations. The groups meet several times to allow personal chemistry and interaction to grow comfortably and naturally. Website: http://www.matchesthatmatter.com. Phone: 877-496-0040.
# # #