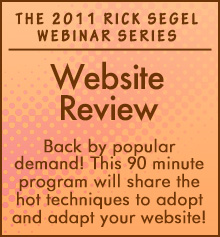 This eye-opening 90-minute webinar introduces this year's hottest web trends and techniques
Kissimmee, Florida (Vocus/PRWEB) February 10, 2011
Award-winning retail expert Rick Segel is announcing his ever-popular webinar, Website Review: Sharing Hot Techniques to Adopt and Adapt. Per numerous requests for a repeat performance of last year's "Website Review," the 2011 webinar edition airs Wednesday, February 23, 2011 at 4 PM EST on ricksegel.com. This eye-opening 90-minute webinar introduces this year's hottest web trends and techniques and guides viewers through some of the best retail sites on the web.
Ever wonder why your competitor's website comes up in a Google search yet yours does not?? Rick Segel feels your frustration and delivers on-point solutions. "Website Review" is a must!
Snapshot of this Year's Retail Website Review:

What are you asking your customers to do?
Calls-to-Action: Are they above the fold?
Why should customers trust your company? (Awards & credentials).
Headlines, bullet points, powerful web content
Do customers view your site as graphically pleasing?
Identify & eliminate shopping stumbling blocks
Website Review: Sharing Hot Techniques to Adopt and Adapt. Register today for only $49.95.
As an added bonus, submit your website and Rick Segel will review it himself! If you will be a webinar attendee, and would like to nominate your website, submit the online form by Wednesday, Feb. 16, 2011 at 5 PM ET. Rick Segel will guest shop your retail website, critique your site live during his webinar, and present your company with profit-generating online tools!
Rick Segel & Associates has been operating for 20 years as a retail training, writing, publishing consortium with affiliate partners throughout the United States. Rick Segel, a Certified Speaking Professional, has spoken in 49 states, on five continents. He is a motivational sales speaker and best-selling author of books including, Retail Business Kit for Dummies and Laugh & Get Rich. http://www.ricksegel.com/
###