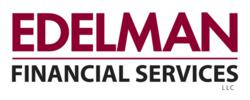 On further reflection, it might be best just to tell your beloved, 'I love you' and put the cash into her IRA.
Fairfax, VA (Vocus/PRWEB) February 10, 2011
Whether you give that special someone a box of chocolates, a dozen red roses, or just a card, impressing your true love on Valentine's Day costs money, according to Ric Edelman, the host of the new television series, "The Truth About Money with Ric Edelman", premiering nationally this Spring on public television stations. The program will be an invaluable resource for those seeking guidance on a broad array of financial topics, presented in an in-depth and entertaining manner.
According to the Edelman Valentine's Day Index™, Cupid would spend $1,703 this year to score points with your special someone. That's the full cost of showering your honey with a card, roses, chocolates, jewelry, a day at the spa, lingerie, dinner, and a romantic night at a posh hotel.
Valentine's Day card from Hallmark - $5
One and a half pound box of Godiva chocolates - $95
One dozen long-stemmed red roses from FTD Florist - $90
¼ CT TW Diamond Pendant in 14K Gold from Zale's Jewelers - $319
A day at Elizabeth Arden Red Door Spa - $472
Very Sexy® Satin Gown from Victoria's Secret - $88
Dinner for two at Ruth's Chris Steak House - $175
One night stay at the Ritz-Carlton - $459
Total - $1,703
Considering the $1,703 cost, Edelman added: "On further reflection, it might be best just to tell your beloved, 'I love you' and put the cash into her IRA. Saving for your true love's future proves that your love is eternal."
About Ric Edelman and Edelman Financial Services
Ric Edelman is a nationally acclaimed financial advisor, author and talk show host and has been providing financial advice to consumers for 25 years. He is also a sought-after speaker, radio personality with a weekly show airing in 37 radio markets and best-selling author of seven books – including the newly updated and expanded fourth edition of his personal finance classic, "The Truth About Money". Edelman's web site is http://www.RicEdelman.com.
Edelman Financial Services provides financial planning and investment management services for individuals and families across the country. The firm has won more than 75 financial, business, community and philanthropic awards, and currently manages $6 billion for more than 14,000 clients nationwide. For investment advice and other financial planning services, or to speak with an advisor call 888-PLAN-RIC, or visit http://www.EdelmanFinancial.com.
Ric Edelman is Chairman and CEO of Edelman Financial Services LLC. He is also President and a member of the Board of Directors for Sanders Morris Harris Group. Ric is an Investment Advisor Representative and offers advisory services through EFS, an SEC-registered investment advisor. He is also a Registered Principal of and offers securities through Sanders Morris Harris Inc., an affiliated broker/dealer, member FINRA/SIPC.
EFS offers advisory services in all 50 states and Puerto Rico. As such, these services are strictly intended for individuals residing in the United States. No offers may be made or accepted from any resident outside the specific states referenced.
###