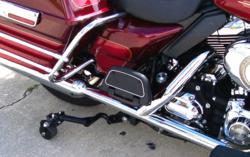 We are pleased to have found Village Cultivators. Together we expect great things!
(Vocus/PRWEB) February 14, 2011
Longwood, Florida: Chopper Design Services, manufacturer of the LegUp LandinGear motorcycle stabilization system, is pleased to announce the engagement of Village Cultivators Capital Corporation of Winter Park, Florida.
Village Cultivators, a wholly owned subsidiary of Newgate Capital Partners, is a Small Business Incubator and early stage accelerator for startups. They seek to provide seed capital acquisition and executive mentoring by industry leaders who have founded successful companies.
The LegUp LandinGear product is a patent-pending, computer controlled, retractable wheel system that helps riders of heavy motorcycles maintain their balance as they start, stop and maneuver their machines at slow speeds. Chopper Design has experienced surprising sales growth since the system was introduced in mid 2009. The company sought out help to increase production, enhance marketing, and improve manufacturing efficiencies. Village Cultivators seemed the perfect fit.
These two organizations, working together, expect to raise enough capital to increase public awareness and production much faster than Chopper Design could do alone. "Domestic and International marketing will be a primary focus," says Pete Giarrusso, President.
More information about LegUp can be found at: LandinGear.com
# # #