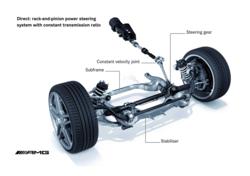 A 100 percent traceability of individual working steps can be guaranteed with the HBM hardware and software.
Marlboro, MA (Vocus/PRWEB) February 10, 2011
With a peak performance of 563 hp, the 6.3 liter engine accelerates the Mercedes-Benz SLS AMG from zero to 62 mph in just 3.8 seconds. The highest standards apply during production and quality control of this sports car. For example, the steering coupling that is produced by DURA Automotive Systems Reiche GmbH is mounted manually, simultaneously subjected to strict quality controls and where modern measurement technology from HBM comes in.
The steering coupling, which serves as the connection between the steering wheel and the steering gear, consists of a corrugated tube, a smooth tube and a double universal joint. The joint used here, a so-called constant velocity joint, has a decisive influence on the steering precision.
Assembly is implemented manually at a specially designed facility. First, the joint that connects both tubes of the steering coupling together is checked. The bending torque of the joint in both movement directions is measured on a test bench which is instrumented with a HBM PW4M platform load cell.
After the joint is checked, the tubes are initially fitted with threaded inserts. The modern process monitoring system MP85A FastPress from HBM also guarantees the required quality here. It measures force and displacement during the press-fit process.
The measured data are directly evaluated in the process controller. This checks whether the press forces lie within the specified tolerance window. The process controller not only delivers an "OK" signal, it also transmits the measured process data simultaneously to the test bench control computer via the network.
The tightening torque of the screws is also measured and recorded during the subsequent screw fittings of the parts. All process parameters are recorded and are available in a database. As each steering coupling that leaves assembly has a serial number, a 100 percent traceability of individual working steps can be guaranteed with the HBM hardware and software.
Visit http://www.hbm.com/mercedes to learn more.
HBM
Founded in Germany in 1950, HBM is today the technology and market leader in the field of test and measurement. HBM's product range comprises solutions for the entire measurement chain, from virtual to physical testing. The company has production facilities in Germany, USA and China and is represented in over 80 countries worldwide.
###