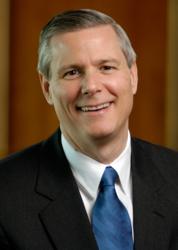 "Obviously, a strong balance sheet is important to any insurance company, and we have one of the best."
Lincoln, RI (Vocus/PRWEB) February 10, 2011
Amica Mutual Insurance Co. sold more policies than ever before while trimming expenses across the board, resulting in solid financial performance in 2010. The company also provided improved customer service by phone, online and with a new mobile app.
Those are among the highlights that Robert A. DiMuccio, president, chairman and CEO of Amica Mutual Insurance Co., shared during the company's annual meeting at its corporate headquarters earlier today. This past year, he said, "was a time when we worked harder to be there for our customers – giving them more choices and control over their insurance decisions."
DiMuccio detailed the company's income, expenses and investment returns, noting Amica's net income dropped from $121.7 million in 2009 to $101.4 million in 2010. However, the company did experience "impressive premium growth," from $1.3 billion in 2009 to $1.4 billion in 2010 - despite what he called "a slow, choppy economic recovery." At year-end, he said, there was a total policy count of 1.3 million – an increase of 4.8 percent from 2009.
The company's combined ratio increased to 105.2 percent this year, from 101.5 percent in 2009, due primarily to higher losses, especially on the bodily injury line of business, DiMuccio said. But total expenses decreased from $532.3 million to $509.1 million, with the overall expense ratio dropping 3.5 percentage points from the year before.
Amica's investments also did well last year, DiMuccio said. Investment income jumped by $7.6 million, to $119.2 million. The excess market value over book value of the portfolio jumped by $128.5 million, to $771.0 million. "Our investments continue to provide consistent contributions from a well-balanced portfolio," he said.
"Obviously, a strong balance sheet is important to any insurance company, and we have one of the best," DiMuccio said. The company's surplus increased by $106.2 million, to $2.3 billion at the end of 2010, driven primarily by net income and increases in unrealized capital gains. Amica's leverage ratio, measuring net premiums written to surplus, remained stable at .63 : 1, compared with the industry norm of 1 : 1, which DiMuccio said "demonstrates our superior financial strength."
Amica Life's net income increased by 81 percent to $16.0 million. Assets for Amica Life grew from $989.2 million in 2009 to just over the $1 billion mark in 2010.
DiMuccio also spoke of the numerous accolades the company received again last year:

J.D. Power and Associates ranked Amica "highest in customer satisfaction among national auto insurers for 11 years in a row and among national homeowners insurers for nine years in a row."
Both Amica Mutual and Amica Life were named to the highly regarded Ward's Top 50 list of top performers.
Bloomberg BusinessWeek rated Amica among the top 25 customer service providers for a fourth straight year.
Amica was ranked on the Fortune 1000 list of America's largest companies for the first time since 2006.
A.M. Best already has issued its 2011 ratings, giving Amica an A++ rating for Amica Mutual and an A+ rating for Amica Life.
In addition, DiMuccio noted that he currently serves as chairman of the board of governors for the Property Casualty Insurers Association of America (PCI). "In this role," he said, "I've become much more involved in the state and federal legislative and regulatory issues that face the insurance industry."
DiMuccio also noted the company's community and charitable endeavors, saying, "We are proud to be actively involved in our communities and to support programs that directly affect the lives of our neighbors."
The Amica Companies Foundation awarded $1.35 million to a variety of charitable organizations last year, while the company also awarded 57 grants totaling $41,700 through its Citizenship Grant Program, in which it gives grants to community groups in recognition of the time and effort Amica employees have given to their chosen groups.
"I'm very proud of Amica's charitable efforts in 2010 on the corporate level and especially on the employee level," DiMuccio said. "In this time of unprecedented need, Amica and its employees have increased support in the communities we serve."
DiMuccio also stressed that Amica has continued to move forward, despite the economic downturn, and he expects that to continue. "We will continue to look at service from the customer point of view, promote customer feedback and enhance service and efficiency through the increased use of technology," he said. "Enhancing our superior 24/7 customer service remains one of our top priorities."
In addition, DiMuccio said, "We will stay focused on measured growth, which offers many benefits for Amica. It lowers overall policy exposure, it diversifies risk geographically, and it makes our structure as a mutual company – and its concept of shared risk – even stronger."
About Amica Mutual Insurance
Amica Mutual Insurance Company, the nation's oldest mutual insurer of automobiles, was founded in 1907. The company, with corporate headquarters in Lincoln, RI, is a national writer of automobile, homeowners, marine and personal umbrella liability insurance. Life coverage is available through Amica Life Insurance Company, a wholly owned subsidiary. Amica employs more than 3,200 people in 40 offices across the country.
CONTACT: Vince Burks , Corporate Communications, 50 Amica Way,
Lincoln, RI 02865-1155, 800-652-6422, ext. 24563
Website: Amica.com
Twitter: AmicaMutual
Facebook: Amica Mutual Insurance Co.
###