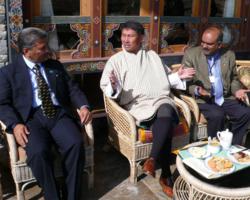 "SAWEN is a powerful signal that South Asia is ramping up efforts to combat poaching and illegal wildlife trade in the region," said Shubash Lohani of WWF.
Washington, DC (Vocus/PRWEB) February 10, 2011
A new wildlife taskforce – the South Asia Wildlife Enforcement Network (SAWEN) – will significantly boost efforts to crack down on wildlife crime in the region, according to World Wildlife Fund (WWF). The coordinated body was created during a meeting between eight South Asian countries last week in Bhutan to protect species across the region from poaching and illegal trade.
"SAWEN is a powerful signal that South Asia is ramping up efforts to combat poaching and illegal wildlife trade in the region," said Shubash Lohani, WWF's deputy director of the Eastern Himalayas. "Illegal wildlife trade does not exist in a vacuum, and if it continues unabated we risk losing species like rhinos and tigers, leaving empty forests, jeopardizing local livelihoods, and affecting the delicate natural balance that makes this corner of our living planet so unique and irreplaceable."
South Asia is home to a diverse network of natural ecosystems and varied biodiversity. While species like tigers, elephants and rhinos are extremely vulnerable to poaching for the illegal wildlife trade, a variety of medicinal plants, timber, marine species, birds and reptiles are also threatened by illegal exploitation and trafficking.
A study released yesterday that uses data provided by TRAFFIC, a joint wildlife trade monitoring program of WWF and IUCN, reports that illegal wildlife markets generate up to $10 billion annually and rank in the top five of the most valuable illicit markets globally. International criminal networks run vast operations linking poachers to consumers through complex systems. The newly established SAWEN will help the eight South Asian countries (Bangladesh, Bhutan, India, the Maldives, Nepal, Pakistan, Sri Lanka and Afghanistan) tackle illegal wildlife trade through organized and coordinated actions on a regional scale.
"Now more than ever we need strong and coordinated wildlife law enforcement to urgently protect the precious species that are being illegally shot and snared to trade in their body parts," said Crawford Allan of TRAFFIC, which provides technical support to SAWEN.
The launch of SAWEN brought together experts from the governments of South Asia member countries, the United States Department of State, inter-governmental organizations such as CITES (the Convention on International Trade in Endangered Species) and INTERPOL, and organizations such as WWF and TRAFFIC.
"SAWEN will help Bhutan to link up with authorities and officials across the region to share good practices and resources to cooperate and coordinate actions to apprehend poachers and traffickers," said Dr. Lyonpo Pema Jamtsho, Honorable Minister for Agriculture and Forests, Bhutan.
The gathering, the Second Meeting of the South Asia Experts Group on Illegal Wildlife Trade, was organized by the Ministry of Agriculture and Forests of Bhutan with technical support from TRAFFIC and WWF Bhutan and funding from the United States Department of State.
ABOUT WORLD WILDLIFE FUND
WWF is the world's leading conservation organization, working in 100 countries for nearly half a century. With the support of almost 5 million members worldwide, WWF is dedicated to delivering science-based solutions to preserve the diversity and abundance of life on Earth, halt the degradation of the environment and combat climate change. Visit http://www.worldwildlife.org to learn more.
ABOUT TRAFFIC
TRAFFIC, the wildlife trade monitoring network, works to ensure that trade in wild plants and animals is not a threat to the conservation of nature. TRAFFIC is a joint program of IUCN and WWF. Visit http://www.traffic.org to learn more.
Notes to editors:
The United States Department of State has provided nearly $750,000 in dollars in recent years to help establish SAWEN. The commitments of the United States to combat wildlife trafficking have been substantial through funding for other wildlife enforcement networks internationally too, such as ASEAN-WEN in Southeast Asia and ROAVIS in Central America. These investments help to protect natural resources, secure local livelihoods and support governments in their efforts to combat wildlife trafficking and the criminal networks that operate them. The U.S. was the founder of the Coalition against Wildlife Trafficking (CAWT), see http://www.cawtglobal.org
World Wildlife Fund
1250 24th Street, NW
Washington, D.C. 20037-1193
USA
http://www.worldwildlife.org
Caroline Behringer
(443) 285-1928 – mobile
caroline.behringer(at)wwfus(dot)org
# # #