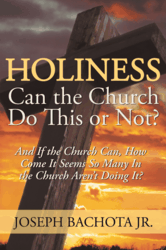 Waipahu, Hawaii (Vocus/PRWEB) February 14, 2011
In a time when many people say they do not attend church because of hypocrisy among Christians, a new book maintains it is time the issue stop being ignored.
In his debut book Holiness: Can the Church Do This Or Not?, author Joseph Bachota, Jr., brings readers an enlightening read aimed at addressing the notion of hypocrisy within the church. Inspired by Bachota's first deployment to Iraq, the book emphasizes problems within the church, such as lack of holiness among Christians or misinterpretation of scripture, and poses practical solutions.
"I really want to educate the church about what is going on with God's people, what is being taught, and how much of it is not in touch with sound Biblical teaching," says Bachota. "My goal is simply to open people's eyes and minds to encourage them to study the Bible on their own."
Stressing that Holiness does not advocate for not attending church, Bachota maintains that common problems should be addressed so that the church can become a more effective entity overall.
"The book deciphers what holiness is and what it is not," says Bachota. "Holiness in the church needs to be the standard, but for so many Christians, it's not."
About the author
Serving in active duty military for 15 years, Joseph Bachota, Jr., is currently a warrant officer in the U.S. Army. Deployed to Iraq three times, it was during his first deployment that he was inspired to write Holiness. Bachota has served in numerous churches worldwide, including service as an evangelist outreach leader for a church in Seoul, South Korea.
Bachota is pursuing a bachelor's degree in Christian Ministry from Wayland Baptist University and plans to seek his master's degree in 2011. He has recently completed his second book, Word of Faith Preachers: How Misinterpretation of Scripture Might Lead You Astray, in which he addresses the "word of faith" movement and what he calls the four main heresies in the church today.
EDITORS: For review copies or interview requests, contact:
Jessica Kiefer
Tel: 317.602.7137
Fax: 317.536.3775
Email: jkiefer(at)bohlsenpr(dot)com
(When requesting a review copy, please provide a street address.)
# # #