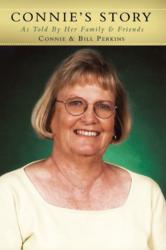 Hernando, Miss. (Vocus/PRWEB) February 14, 2011
Connie Perkins's name was never in lights. She was neither rich nor famous outside her family or community. Yet to those who knew and loved her, Connie was a truly extraordinary person. Her devotion to her husband, family and friends along with her commitment to the Lord and to her church, left a lasting influence on all those who knew her.
Connie's Story: As Told by Her Family & Friends (published by CrossBooks) is a collection of seven unique reminiscences written by Connie's husband, Bill Perkins, along with others close to Connie, including family members, her pastor and other friends celebrating the life of a woman who wore the hats of wife, mother, grandmother and friend who passed away in 2008 after a valiant struggle with Alzheimer's.
"What a wonderful time and ride Connie and I had," said Perkins. "We had our bad times but most of all we had our good times, and the good times are remembered and the bad times are put away."
Bill shares stories such as how he taught Connie to drive when they were newly married, how the couple coped with their daughter's serious car accident, what really happened to the neighbor's old marauding cat and how a commode full of artificial flowers ended up on the lawn to mark Connie's birthday. The pieces together form a loving tribute to an ordinary woman who becomes extraordinary as you get to know her.
Throughout the essays, God's hand is at work in the most mundane circumstances, in important life transitions, and everywhere between. Connie's Story is a testament to how God makes a seemingly conventional life rich and meaningful. By the time you are finished reading, these warm, funny, fond memories will make you feel that you, too, have been blessed to know such an extraordinary woman.
About the Author
Bill Perkins was born in a farmhouse in Kemper County, Mississippi, in the community of Moscow, the first of three children born to Sheldon and Beatrice Perkins. Bill was married to Connie for nearly 48 years before she died in 2008. Hearing stories about how she touched others' lives inspired him to write his own and to publish the collection. He is not a professional writer, he says—"just a husband who had a wonderful time with his wife."
CrossBooks, a division of LifeWay Christian Resources of the Southern Baptist Convention, is a Christian publishing company committed to bringing more Christian voices into the publishing industry. For more information, visit http://www.crossbooks.com.
EDITORS: For review copies or interview requests, contact:
Marketing Services
Tel: 1.866.879.0502
Fax: 812-961-3133
Email: marketingservices(at)crossbooks(dot)org
(When requesting a review copy, please provide a street address.)
# # #