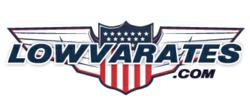 Every tool on the new web site is specifically designed to help the make the va loan process much simpler for the veteran.
Lehi, UT (Vocus/PRWEB) February 11, 2011
LowVARates.com recently released its new web site dedicated to helping veterans and military families receive information on VA home loans.
The new site immediately lays out the advantages of using the VA home loan and allows veterans to begin the process of purchasing and refinancing their VA home loan.
Web site users can now receive assistance with the "Live Chat" feature that allows users to have online communication with a representative at LowVARates.com. Veterans with questions or concerns about a VA loan can receive direct assistance from a qualified VA loan officer.
Owner of LowVARates.com, Eric Kandell, wanted the web site to have more interaction with the customer and help answer their questions.
"The live chat function on the web site is a great tool for veterans to get quick answers about purchasing or refinancing a home," Kandell said. "The goal with the live chat is to help our customers get fast help from one of our expert loan officers."
The home page also features new video footage with LowVARates.com employee and former U.S. Marine, Daniel Gentry. Gentry joined the Marine Corp. in 1997 and has served two tours in Iraq.
Gentry was born and raised in the beautiful state of Utah. In his younger years, he met his sweetheart, Kelli, and later married her. Dan and Kelli have seven wonderful children ranging in ages from 13-years-old to just four months.
"I loved my time in the Marine Corp. and it has helped shape me into the person I am today," Gentry said.
Gentry currently helps many military families take advantage of their well-deserved VA benefits by assisting veterans with purchasing and refinancing their home.
"I love helping veterans because I know exactly what they have been through," Gentry said. "I'm very passionate about helping the military families and it makes my job a lot easier when I know I'm helping out veterans."
The new web site also features a number of new tools to help web site users have a better experience on LowVARates.com.
The mortgage calculator allows potential buyers to estimate the monthly payment on a home by calculating the approximate loan amount with current VA loan rates and the life of the loan.
The refinance table helps families distinguish the difference between various VA lenders and the advantages of each lender. The site also features five other tools to help homeowners receive more information to make a better buying decision for their families.
"Every tool on the web site is specifically designed to help the make the process much simpler for the veteran," Kandell said.
The web site blog is a great way for web site users to get detailed articles and information about current VA loan news and tips to help military families better understand the VA mortgage industry. The web site blog also provides fun facts and information about various military topics.
To find out what recent customers are saying about the LowVARates.com and its staff, web site users can take advantage of the testimonial page. On the testimonials page, military families across the nation tell about their experiences with LowVARates.com and give advice to potential customers.
"We are very pleased with the new changes on the web site and know it has become much more user friendly," Kandell said. "I love being in an industry that provides a service for our men and women of the U.S. Armed Forces and hope the web site will give them a valuable tool."
About LowVARates.com
For the past 20 years Low VA Rates has been dedicated to serving veteran homeowners. We specialize in providing VA loans to qualified veterans for mortgage purchases and refinances. These loans provide lower interest rates and monthly payments than other traditional or conventional loans.
VA loans are currently the only program left that allows no-money-down loans providing a secure mortgage option guaranteed by the Federal Government. Our professional staff and loan officers will assist you to lock in low interest rates and take advantage of the unique opportunity provided through VA loans.
###