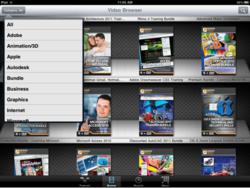 [The] App lets users watch hundreds of free samples from the Infinite Skills catalog of software tutorials.
(Vocus/PRWEB) February 14, 2011
Training provider Infinite Skills Inc has just announced a new app to access professional quality software tutorials on the iPad. From Photoshop CS5 to AutoCAD 2011, iPad users will be able to access hundreds of free lessons covering the world's latest and most popular programs.
"As tablets become more and more a part of the way people access multimedia, it only makes sense that they will want to watch training videos in such a convenient format," said Mike Spaulding, president of Infinite Skills.
The program is free within Apple's iTunes App Store and also accessible through popular third party sites. Once installed on the user's mobile device, the application can instantly access training for over three dozen professional programs and computer skills. High quality streaming videos are accessible over both WiFi and 3G connections.
The App can be downloaded for free directly from Apple at this location
http://itunes.apple.com/us/app/infinite-skills-video-based/id418130423?mt=8
The current product lineup from Infinite Skills includes training for Microsoft Office 2010, the Adobe CS5 design suite, Apple Final Cut Studio, and Autodesk AutoCAD and Revit. Tutorials for accounting software, 3D design, and programming languages is also available. Each month, the company releases new custom courses based on popular demand and product release cycles.
Software Tutorials and Training - Infinite Skills
The Infinite Skills iPad App lets users watch hundreds of free samples from the entire company catalog of software tutorials. With each course, Infinite Skills makes available the first through chapters of instruction or a special selection of tutorials. This free access teaches core skills and techniques and allows viewers to preview the complete training, available to order on DVD-ROM or as instant downloads from the company website.
The new training app joins Infinite Skills' complete training for Final Cut Pro and AutoCAD 2011, currently downloadable for iOS devices. More information for each of these offerings is available on the App Store, and a complete list of all Infinite Skills courses can be found on the company's site:
About Infinite Skills Inc
Combining an innovative approach to technology education and a devotion to customer service, Infinite Skills has quickly become a definitive source for training online. Based in North America, the company serves numerous industries and individuals worldwide.
# # #