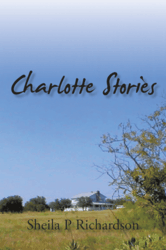 May, TX (Vocus/PRWEB) February 14, 2011
Border Collies are known for their superior intelligence. Six-year-old Charlotte Richardson certainly lives up to the reputation with her smart, sweet exposé Charlotte Stories (published by iUniverse) about her life in rural Texas. An unemployed herding dog living out in the boondocks, Charlotte whiles away her days as faithful companion to Mama, author Sheila P. Richardson, and bemused observer of the tapestry of life. Her book is a compilation of memories that shows a simple family life rich in experience—laughter, sadness, craziness, drama, kindness, beauty, death, renewal… It's all about change.
The first few stories introduce the characters. Charlotte tells how as a mere pup she came to live with her new family. Early on, the reader is introduced to her politics-obsessed and very vocal Mama, the bluest of liberal Democrats living in the reddest of conservative Republican states. Charlotte says, where they live, Mama's politics makes her about as rare as the fabled goat-blood-sucking creature known as a chupacabra. The only thing Mama is more passionate about than her politics is her husband Poppy and the collection of beloved pets that make their house a home.
The stories unfold quite delightfully as she describes her dog friends and tangentially Mama's friends and family. Then, in the blink of an eye, everything changes when Mama's youngest son dies. Charlotte recounts their suffering and how over time she comes to recognize that their great loss brought with it unexpected blessings.
Children, dog lovers, and observers of the human condition will all love Charlotte Stories for its poignant simplicity. Charlotte tells her tales with a light-hearted and loving spirit that will charm readers and leave them wishing for more.
About the Author
Sheila P. Richardson is a lifelong Texan born and raised in Houston. She has worked as a technical writer, computer programmer, and intelligence analyst. She and her husband retired to peaceful country living near May, Texas, where she is a licensed private investigator and partner in 2 Snoops, an investigations company.
iUniverse is the leading book marketing, editorial services and supported self-publishing company. For more information, visit http://www.iuniverse.com.
EDITORS: For review copies or interview requests, contact:
Marketing Services
Tel: 800-288-4677
Fax: 812-961-3133
Email: promotions(at)iuniverse(dot)com
(When requesting a review copy, please provide a street address.)
# # #