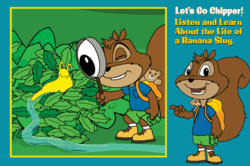 Bay Area, California (Vocus/PRWEB) February 11, 2011
IAGmedia Inc, creators of conscientious programming for children ages two to six, continues to expand its Let's Go Chipper eco-educational app series on iTunes with the launch of three new apps today. Chipper, a curious squirrel and conscientious ambassador of the great outdoors inspires meaningful connections between parent and child, and excites everyone to get into the great outdoors. The premiere app – Let's Go Chipper is a robust portal featuring an award-winning animated and live action movie Into the Great Outdoors along with eReaders, animated books, music videos, and coloring activities. Today's four new apps continue the series:
Chipper in Parks takes Chipper and friends on an urban journey to a national park in San Francisco. Chipper has lost his leaf to the city drain and he needs to find it. Chipper and his dad take the bus through San Francisco to Golden Gate Park and Crissy Field where they explore wetlands, marsh, and the Bay with Elroy, the wise-winged Great Egret. Chipper learns all drains lead to the Bay, the importance of keeping our environment clean – and most importantly, a place where he can explore for hours. The animated story features the history of the Ohlone People and the wonders of the park along with a "what did we learn" section and coloring pages to continue the fun.
Bruce the Slug is a silly and slimy adventure through the forest where Chipper and Paisley, his faithful friend in the great outdoors, play tag and pile leaves until they come upon their sluggish friend Bruce. The ever-curious Chipper learns the importance of this slow, one-lunged land snail and how the earth is composted naturally by Banana slugs. Kids will delight in learning the importance of camouflage for little creatures and how new trees are planted by Bruce's poop. This app also includes coloring pages and a "what did we learn" section.
Out to Sea with Sally the eco-adventure goes under the sea where Chipper travels with Sally to explore the world of salmon. An anadramous fish, Sally swims from fresh water to salt water and back again in her life – living in estuaries and laying eggs "spawning" along the shores of creeks and streams. Chipper realizes the importance of stepping lightly on the trails and the many stages of another animal's life.
Let's Fly Chipper kids will soar on this adventure up into the sky as Chipper takes his first flight. A get-ready-to-go animated story with activity pages, Chipper playfully helps kids earn their wings before mom or dad packs a bag. From check-in, to the proper steps for a safe and stress-free security check, boarding, flying and landing – Chipper learns manners are very important on an airplane and gears kids up for family travel.
The entire eco-educational app series is available on iTunes along with the companies Matching Game, putting a new flip on the classic game of memory and including a customized game where parents can upload photos for a game of match with Chipper. Additionally, the company offers books, DVDs, and supporting items to help connect families via its http://www.letsgochipper.com store and also through Barnes and Noble and other retailers.
Created and produced by IAGmedia, a Bay Area based conscientious media company for children, the award-winning Let's Go Chipper series features DVDs, books, music, activity packs, and programs that help foster good character and a love for the environment in young children. Chipper visits many retail stores like REI throughout the Bay Area and nation as well as schools and featured story-times that help excite, engage, and educate children on the wonders of nature and the environment.
"Research continues to emphasize the importance of early connections in nature, free play, music and meaningful family interactions for positive emotional and physical growth in children under six," says company founder Stephanie Rach-Wilson. "Our programs are correlated for schools, include programs that reinforce the message, and provide educational opportunities in a playful way to help parents provide a positive environment for their children to thrive."
The Let's Go Chipper program will launch the Into the Great Outdoors tour celebrating Chipper Ambassadors from around the nation and world. Families can connect via Facebook and Twitter to share tips, events, and new ways to connect in our parks – community, state, and national. To become an ambassador, please email connect(at)letsgochipper(dot)com or visit http://www.letsgochipper.com to learn more.
For more information on the Let's Go Chipper series and IAGmedia, please visit http://www.iagmedia.net or call 415-927-2398.
# # #