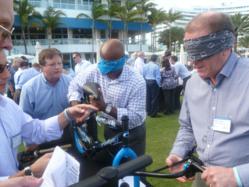 An important component of the Connolly Managers Meeting is to get everyone in the same room and on the same page. This year we are also proud to give back to the Miami community.
Miami, FL (Vocus/PRWEB) February 11, 2011
Connolly's annual Managers Meeting took place Monday through Wednesday, January 31 – February 2 in Miami, Florida and drew over a hundred Connolly personnel from around the United States, the UK and Canada. The meeting provided a way for the widely dispersed and highly mobile staff to connect with each other, get plugged into new strategic objectives and goals, and celebrate the achievements of the past year. This year, it also left a charitable imprint on some of Miami's needy children.
"An important component of the Connolly Managers Meeting is to get everyone in the same room and on the same page," said CEO Larry Connolly. Accordingly, the theme of this years' meeting was 'One Connolly.' The nature of the firm's business, which is to audit major retail, commercial, and healthcare companies and recover overpayments to vendors and suppliers, requires personnel to work in a variety of locations - frequently on-site with a client.
This year, a unique team-building exercise helped achieve the goal of unifying staff members while also making some deserving children very happy. Managers were separated into teams which competed with each other by answering "Jeopardy-style" questions to acquire supplies to build 14 bicycles, then built them blindfolded! Said Melissa Ruminot, who organized the event, "I don't know which was worse, being the ones who had to give the instruction but couldn't touch the bikes, or the ones who were trying to build the bikes but were blindfolded and had to rely strictly on verbal instructions,"
Once the competition ended, Miami's Alonzo Mourning Charities, Inc. brought 14 children to the competition site to meet the managers and take the bikes home. The Alonzo Mourning Charities were founded by professional basketball player Alonzo Harding Mourning, Jr. who played most of his 15-year NBA career for the Miami Heat. "Zo" as he was known, made a comeback after undergoing a kidney transplant and later won his first NBA Championship with the Heat. His local Miami charities focus on supporting the healthy development of local families and youth and on kidney related issues.
About Connolly - Connolly is the largest private recovery audit firm in the world, with offices located throughout the US, and in Canada, and the UK. Connolly's headquarters are in Atlanta, Georgia and its Audit Support Center is in Wilton, Connecticut. Connolly assists clients in numerous industries ranging from Consumer Products to Manufacturing to Energy, through their three lines of business, Retail, Healthcare, and Commercial. Recovery auditing involves recouping the millions of dollars each year that clients have erroneously paid to suppliers, vendors, and providers. These errors can include duplicate payments, missed discounts, and more, and are endemic to any large organization. Connolly's expertise extends to recommending vital process improvements to avoid future financial losses. Connolly was founded in 1979 and is in its third consecutive year on the Inc. 5000 List of the Fastest Growing Private Companies in America. Connolly is also a recipient of a Best Places to Work Award for 2010 and 2011 and is a Microsoft Gold Partner. Connolly enjoys a 97% customer loyalty and satisfaction rating. More information on Connolly and its services can be obtained at: http://www.connolly.com. Connolly is a trademark of Connolly, Inc. Copyright © 2010
CONNOLLY CONTACT: Anne Marcus, Marketing and Proposal Writer, 203.423.1456 (Anne(dot)Marcus(at)Connolly(dot)com).
Connolly Corporate Headquarters
950 East Paces Ferry Road
Atlanta, GA 30326
Tel: 404.261.7800
1.800.530.1013
Connolly Audit Support
50 Danbury Road
Wilton, CT 06897
Tel: 203.529.2000
1.800.530.1013
###