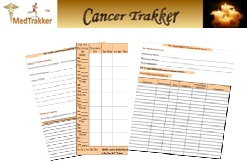 I first designed the Cancer Medical Organizer for my mother when she was diagnosed with Leukemia. My personal experience navigating and making decisions was overwhelming to manage every aspect of her treatment care process
(Vocus/PRWEB) February 11, 2011
The medical records and health information guide is finally available online. Amber Bowden has officially put the medical records industry on notice: senior citizens will soon be clamoring to get her personal medical record keeper, Medtrakker as it takes the confusion out of an otherwise daunting task.
During a time of uncertainty and confusion, seniors can rely on the personal medical record keeper to help them organize and provide up-to-the minute tracking of their major medical health insurance information, medical conditions information and medicine medical information
As Amber Bowden states, "I first designed the Cancer Medical Organizer for my mother when she was diagnosed with Leukemia. My personal experience navigating and making decisions was overwhelming to manage every aspect of her treatment care process".
When a senior is diagnosed with failing health, it can become difficult to manage even the basic care. As a person struggles to make life choices, the personal medical organizer, Medtrakker facilitates simple and efficient care by providing a systematic approach to record keeping.
The personal medical organizer offers the following benefits to seniors:

Offers the convenience of having all medical records centralized in one location.
Helps manage all medical allergies, conditions, physicians' visits, medications, and
Procedures.

Provides current and accurate information to physicians and health care providers
Provides peace of mind to both the senior and caregiver.
Prevents potential drug interactions by listing all medications and allergies
Seniors can customize their personal medical organizer by choosing from a variety of pictures for the front of their Medtrakker. Not only will the Medtrakker provide a one stop solution for the senior's medical organization needs but it will be customized to represent their own particular lifestyle.
The Medtrakker takes the risk out of senior's forgetting something critical when it comes to monitoring their health issues. Amber Bowden's product provides a comprehensive plan for a senior to self manage their medical situation while trusting that they will not forget or confuse anything.
More than just a medical records tracking system, the Bowden's solution helps seniors take an active role in their own health care management.
The medical organizers are available exclusively online at: http://www.medtrakker.com/
For Media: Amber Bowden is available for speaking, events, book signings and expert quotes.
# # #