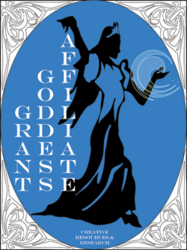 I'm so excited to launch this new program, especially since it was created in response to requests from other web site owners!"
Woodland, CA (Vocus/PRWEB) February 11, 2011
The brand new Grant Goddess Affiliate Program is now open for applications. Affiliates, approved to participate in the program, will promote products of Creative Resources & Research earning a generous 50% commission per sale.
By rolling out the Grant Goddess Affiliate Program, expert grant writer and CEO of Creative Resources and Research (CRR) Veronica Robbins, is expanding her online presence. Veronica currently has multiple online enterprises including the Creative Resources and Research home site; Grant Samples; Grant Outlines; and, Grant Goddess University. Veronica and her team of consultants actively develop new products, two of which are currently being offered to Grant Goddess Affiliates for promotion. The Grant Goddess products are extremely popular due in part to Veronica's strong industry reputation and her successful grant writing career. Under Veronica's leadership, CRR has secured more than one hundred fifty-five million dollars in grant funding for clients over the past decade.
Prospective Affiliates must submit an application for approval to participate in the new program. Applicants must show that they own a web site appropriate to host the CRR products and which upholds the CRR corporate image. Commissions are paid monthly and there is a base earning threshold of $20.00 which must be met before a payment is processed. The Affiliate Program is hosted through E-Junkie and all sales and Affiliate payments are securely processed through PayPal.
The Products currently included in the Grant Goddess Affiliate Program are:

101 Tips for Aspiring Grant Writers (Digital Version) Cost = $5.99
A 167 page book of grant writing tips that cover all of the typical sections of a grant application.
Federal Grant Resources (Digital Version) Cost = $1.99
A 41 page book of federal government grant links, resources, and articles giving advice on making successful applications.
Additional products will soon be added to the Grant Goddess Affiliate program including online training courses offered through Grant Goddess University.
# # #