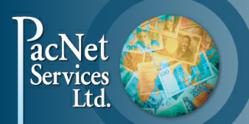 learn different ways in which successful international marketers have saved money on localisation, increased response rates (and) achieved higher margins
Vancouver, BC (Vocus/PRWEB) February 12, 2011
PacNet Services, a Vancouver-based company that offers international payment processing services to direct mailers, publishers and internet retailers, is proud to have been asked to speak for the third year in a row at the upcoming Technology for Marketing & Advertising show in London, March 1st to 2nd. The scheduled seminar will give attendees of the TFM&A an opportunity to access objective information about international payments as they relate to both direct marketing and publishing.
Brian Weekes, VP of Business Development at PacNet Services, will teach 7 key elements to planning successful international payment strategies, and will share real-life experiences of brand name clients in the publishing industry. The audience will have opportunity to learn different ways in which successful international marketers have saved money on localisation, increased response rates, achieved higher margins and more. Scheduled for Tuesday, March 1st, 2011 at 2:30 pm in the DM Theatre, attendees should come prepared with international payment questions of their own so that they may take advantage of Weeke's valuable expertise and objective advice on international payment processing.
TFM&A is the UK's only integrated marketing event. It delivers the latest industry trends and developments as well as giving delegates access to the leading suppliers of data, international payment processing, CRM, digital and direct mail solutions. Attendees are offered the information and resources they need to create truly integrated marketing & advertising campaigns. PacNet Services Ltd. will be exhibiting on stand B32 of TFM&A.
About PacNet Services:
Vancouver based PacNet Services is an international payment processing company that offers a diverse range of both traditional and electronic payment services for direct mail and e-commerce. Some of the payment facilities offered by PacNet include credit card processing in 130 currencies, direct debit, EFT, ACH, cheque processing and bank transfer collection. PacNet also issues payouts by cheque and EFT for refunds, rebates, commissions and royalties both in major and developing markets.
# # #