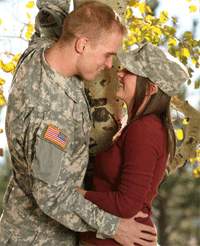 We have many customers who are war veterans so we know how helpful our adjustable beds can be to those who have been injured or disabled defending our country.
Postville, Iowa (PRWEB) February 11, 2011
Transfer Master Products announced today that it has extended the deadline for nominations for its first Iraq and Afghanistan War Veteran Valentine's Day Video Sweetheart Contest to Noon, Central Standard Time, Monday, February 14th. The company is giving away one of its twin-size adjustable electric hospital beds to an Iraq-Afghanistan war veteran, through a nomination process on its Facebook page. In the contest, Iraq-Afghanistan veteran spouses, sweethearts and supporters are encouraged to submit nominations by writing on the wall (or posting on the company's blog) explaining why their nomination should win the free adjustable electric bed (or one of of the other prizes being offered).
In addition to the standard twin-size adjustable home hospital bed awarded to the Grand Prize winner, five runner-ups will each receive Soundspa AM/FM clock radios while three will each receive memory foam standard size contour pillows.
Transfer Master Founder and President Aaron Goldsmith was featured on the nationally-syndicated Jim Bohannon radio show on Tuesday, February 8th. Goldsmith and Bohannon discussed the contest and some of the touching entries that have been received to date. "I'm very grateful for the attention Jim provided our contest and for his long-time support of US military veterans," Goldsmith said. He reiterated that in the contest, "We're looking for those heartwarming love stories that exist between loved ones that personify the extraordinary bravery by the men and women who have fought and served in Iraq and Afghanistan. We have many customers who are war veterans so we know how helpful our adjustable beds can be to those who have been injured or disabled defending our country. We hope that by giving away one of our beds, we'll be able to improve the life of at least one soldier. And by posting stories or videos, the public can learn about the special qualities of many of those who have graciously served our country."
To nominate an Iraq-Afghanistan war veteran for a free bed, spouses, sweethearts and supporters are encouraged to visit the Transfer Master Facebook page or the company blog and submit a comment or video (up to two minutes long). They must explain the name/rank of the person being nominated, why they deserve (or need) a Transfer Master bed, what this person means to them and any other important or convincing information the judges should know. Videos longer than two minutes will not be eligible.
Nominations will be accepted until Noon (Central Time) February 14th. Winners will be announced via Facebook and on the Transfer Master website on Tuesday, February 15, 2010.
Please note: Winners must be an Iraq-Afghanistan War Veteran. Verification and documentation will be required. Entrants agree that by submitting their video to Transfer Master they grant the company full usage rights and permission to use it for promotional purposes under the company's Term of Use policy (which is available on its Facebook page and website).
About Transfer Master Products, Inc.
Founded in 1993 in Postville, Iowa, Transfer Master engineers electric beds for sleep centers and pregnancy wards, hospitals and home use. For Transfer Master, customer-driven design and innovation is paramount. Each bed is custom designed and hand-built for the user. The company received the industry's first patent in 1993 for combining adjustable medical bed functionality with home use design as well as for creating the first specialized dual-use King beds.
The company builds beds that are low enough for users to transfer in and out of, but high enough for caregivers to easily access. Proudly designed and manufactured in the United States of America, Transfer Master beds are durable, comfortable and attractive, providing customers with the functionality and comfort they deserve.
Transfer Master listens to customers and builds its beds specifically to meet the precise needs of each user. The electronic boards of the newest models were designed by a U.S. defense contractor. The beds are innovatively designed and solidly manufactured, creating a long-lasting product that allows its users the features they need and the comfort they deserve.
To find out more, please visit http://www.transfermaster.com, visit us on Facebook and follow us on Twitter.
CONTACT:
David Kaufer
Zenwerks
206-262-7302
david.kaufer (at) zenwerks.com
# # #