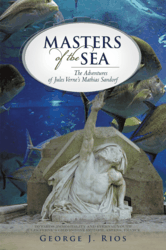 Yonkers, NY (Vocus/PRWEB) February 14, 2011
Science fiction inter-mingled with a host of enduring characters is the very essence of Jules Verne's appeal across time. Now, in the new adventure novel Masters of the Sea: The Adventures of Jules Verne's Mathias Sandorf (published by iUniverse) author George Rios recreates Verne's version of The Count of Monte Cristo in an exciting and epic fashion.
Masters of the Sea follows Verne's greatest character Dr. Mathias Sandorf, an Austrian patriot, in his battle against occupying German forces prior to World War I. After being betrayed and imprisoned, Sandorf flees Austria, only to be shipwrecked and marooned for twenty years on an unexplored island in the Atlantic Ocean. Unbeknownst to Dr. Sandorf, a secretive band of Chinese refugees have been living inside a volcano on the island for the last ten years. By chance, Dr. Sandorf is rescued by an elusive Chinese castaway who Dr. Sandorf had previously saved from a giant boar attack. The two chance encounters create a mutual trust and respect between the two men. As a friendship developes, Dr. Sandorf's new friends begin to reveal the secrets of their heritage. Shaolin martial arts, hypnosis, cellular rejuvenation and the ability to communicate with sea creatures are among the skills that Dr. Sandorf acquires. When it becomes evident that the next tidal wave will destroy the island, they build a ship atop the highest peak and ride the wave to freedom. Together they return to Austria where Dr. Sandorf receives a hero's welcome for the revolution he headed had succeeded.
Once back in his homeland, Dr. Sandorf must face a shadow that has hung over him since he was imprisoned so many years before; who betrayed him and cost him his freedom? As war with Germany looms over all of Europe, Sandorf, together with his friends, new and old, must unravel the mystery of an elusive traitor to the Austrian people known only as 'the Regent' and thwart a plan to conquer Austria once and for all. Expertly combining science fiction, period writing, historical fiction and high adventure, Masters of the Sea is a rollercoaster ride that is sure to keep readers enthralled to the last page.
About the Author
George Rios was born in New York City. At Bishop Dubois High School he studied French, Latin, Spanish and English. Upon his Honorable Discharge from the US Army service at a military hospital in Chinon, France Rios used the GI Bill to attend night college for ten years, earning a B.A from Hunter College and a Masters in public administration from John Jay College. Both University Colleges have inducted Rios into their respective Hall of Fame as Alumni of the Year. Mercy College of Westchester County conferred an Honorary Doctorate of Humane Letters. Rios is the first Puerto Rican to receive three White House appointments with service in five presidential administrations. In all, Rios has held nine public service appointments including being the first Hispanic assistant to a Westchester County executive. He has served as a Trustee of CUNY and Commissioner for Mayor Rudy Giuliani.
iUniverse is a premier book publisher for emerging, self-published authors. For more information, please visit http://www.iuniverse.com.
EDITORS: For review copies or interview requests, contact:
Marketing Services
Tel: 800-288-4677
Fax: 812-961-3133
Email: promotions(at)iuniverse(dot)com
(When requesting a review copy, please provide a street address.)
# # #