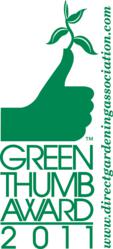 Alabaster, AL (Vocus/PRWEB) February 14, 2011
The Timelapse ProjectCam -- a new product from Wingscapes that turns remodeling, construction and landscaping projects into fast-forward videos -- has won a 2011 Green Thumb Award as one of the best new products of the year.
The Green Thumb Awards are selected each year by the Direct Gardening Association (formerly called the Mailorder Gardening Association). Green Thumb Award winners are chosen by an independent panel of judges that review a product's uniqueness, technological innovation and potential appeal to consumers.
"We are delighted to accept a 2011 Green Thumb Award for Timelapse ProjectCam," said Bart Stephens, general manager of Wingscapes. "Homeowners are always improving their properties and gardens, and landscapers and contractors earn their livelihoods by transforming their clients' properties. Timelapse ProjectCam enables all of them to videotape their projects in a fun, easy and informative way."
Projects that take days, weeks or even months can be hard to track because the progress happens so slowly. The award-winning Timelapse ProjectCam from Wingscapes (http://www.wingscapes.com) offers an easy way to showcase all types of projects from beginning to end. The innovative, high-resolution digital camera takes photos at set time intervals and then automatically converts them to time lapse videos. The videos can be used by homeowners and professionals alike to showcase everything from a deck remodel or a room addition to an entire growing season of a garden. These videos can be posted online on company websites or on social networking sites such as YouTube and Facebook.
"Timelapse ProjectCam makes it easy to create short videos that show a complete project from beginning to end in seconds or minutes," said Stephens. "Whether you are interested in recording your backyard do-it-yourself project, showcasing your company's capabilities or documenting any sequential event, a Timelapse ProjectCam will easily turn your project into an educational and entertaining video."
To create a time-lapse movie, simply set the Timelapse ProjectCam to take still photos at the desired time interval (every 30 seconds, 1 minute, 5 minutes, 10 minutes, 15 minutes, 30 minutes... up to one photo per day.) The Timelapse ProjectCam will automatically turn on after each interval countdown, take a photo and then return to battery conservation mode. After taking photos in time-lapse mode, simply set the camera to "Convert to Movie" and it does all the work.
While the Timelapse ProjectCam was designed to record projects, in reality it can be used to record any type of event or process that happens over an extended period of time. Amateur weather watchers can set the ProjectCam to record a storm coming in, a snowfall coming or life within the camera's eye from sunrise to sunset. The camera can also be used to record comings and goings into houses, storefronts, equipment sheds, garages and storage rooms. And the ProjectCam can even be used to capture parties and special events in unique ways or to show off ordinary events in an attention-grabbing way.
Timelapse ProjectCam takes high resolution (4 megapixel) images for crystal-clear viewing. The camera is very easy to use, and setup takes just three minutes. No tools, additional software or wiring is required. The rugged, weatherproof design makes Timelapse ProjectCam sturdy enough for year-round use.
Timelapse ProjectCam includes batteries, mounting accessories, and everything needed to create captivating videos. It sells for $79.95 on http://www.wingscapes.com.
# # #