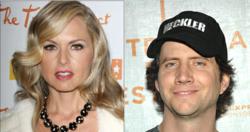 I was like, 'Holy sh*t! What did I do?'
Hollywood, CA (Vocus/PRWEB) February 11, 2011
Apparently one little 'typo' almost caused comedian/actor Jamie Kennedy to suffer a fatal heart attack in Las Vegas this past weekend.
In an interview this week, the funnyman told HAHAJK.com that he thought he was going into cardiac arrest after seeing a mistake in an article which listed recent celebrity sightings in the Las Vegas Review-Journal and claimed that Kennedy was married to fashionista Rachel Zoe, and about to be a father.
The typo read:
"…and funnyman Jamie Kennedy, enjoying a night out before he and expectant wife Rachel Zoe become parents…"
"I was like, 'Holy sh*t!!! What did I do? I must have had a really, REALLY crazy weekend in Vegas," Kennedy told HAHAJK.com. "I got married AND had made someone eight months pregnant in just one weekend? I asked my girlfriend, 'Where the hell were you all weekend!!? How could you let this happen?' That's when she suggested it might be a 'typo'. I was like, 'Damn!!!' I need to settle down. This city is going to kill me!"
Kennedy is currently in a relationship with 21-year-old budding actress, Nicolle Radzivil. HAHAJK.com previously stated that she was a budding fashion designer when it broke the news of their relationship around the New Year.
The two were in Las Vegas this past weekend "partying it up" when the misprint almost caused Kennedy to "require the paddles", according to the actor.
"I am not getting any younger man," he told an interviewer. "I mean Rachel (Zoe) is great and all, but I am just saying she would've had to lose some crazy bet to land me as a husband AND the father of her kid. Sh*t! After I was done hyperventilating, Nicolle and I laughed it off. "
Kennedy thought he was going to have to "throw down" with Zoe's real husband Rodger Berman, who heads her company that was shooting her Bravo show at the Marque nightclub at the Cosmopolitan last Saturday.
Kennedy was also staying at the hotel, but with Radzivil. "I thought he was going to be like, 'Jamie! You got some splainin' to do!' and that I would have to show him my Kung-Fu. It's a good thing too, because I don't know Kung-Fu," he told HAHAJK.com.
Kennedy says he was NOT rushed to a nearby hospital and "self-medicated" by continuing to enjoy his time in Vegas.
###