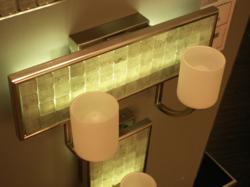 We're really seeing the technology of LEDs blending with decorative lighting more than ever before.
Sacramento, CA (Vocus/PRWEB) February 11, 2011
Lumens.com has revealed that energy-efficient lighting and ceiling fans are at the forefront of this spring's home design trends, as revealed at January's International Lighting Market in Dallas, TX. Technologies among this season's contemporary lighting products continued to push toward energy efficiency, finding new ways to use LEDs (light emitting diodes) in lighting products, while the use of energy-saving motors dominated among many ceiling fan manufacturers.
With some of the top manufacturers for residential and commercial lighting fixtures representing their collections and new introductions, "green" products emerged as a key element of home design trends for spring and throughout 2011. The use of LED lamping proved to be most popular for lighting manufacturers developing energy-efficient fixtures, while ceiling fan manufacturers moved toward using DC motors to design more efficient fan products. Most modern lighting and fan manufacturers moved toward green products that promote energy efficiency.
Advancing technologies have helped LED lighting move from direct task lighting to pendants and bath lighting, allowing them to be used throughout a home or commercial space. Contemporary lighting manufacturer Bruck Lighting Systems introduced an LED pendant light that moved the transformer into the light's canopy, rather than under the shade, creating a smooth diffusion of light from the shade itself. Quoizel also introduced a bath light with an LED backlight that created an accent lighting effect against the wall behind it. In addition, LED lighting continues to be used in accent lighting, such as path and under-cabinet lighting. LED options are more plentiful than ever, with manufacturers designing a range of products that allow consumers to bring energy-efficient lighting into every room of their home.
"LED lighting is no longer associated with cold, blue, single diode associated with keychain flashlights," said Ken Plumlee, president and CEO of Lumens.com. "In our homes, LED lighting has progressed from recessed downlighting to pieces like hand-blown glass pendants and wall lighting. We're really seeing the technology of LEDs blending with decorative lighting more than ever before."
In addition to lighting, contemporary ceiling fan manufacturers also emphasized the growing importance of energy-efficient products, with many introducing DC (direct current) motors to power new ceiling fans. DC fan motors use a magnetic drive to keep the fan moving, only using electricity to start up the motor. DC motors are also quieter and use up to 70% less energy than their AC counterparts.
With more than 150 lighting manufacturers, the Dallas International Lighting Market is one of the top venues for spotting trends in contemporary lighting. This year showcased an abundance of LED lighting options from contemporary manufacturers, as well as trends in style like Hollywood regency and use of pendant lighting in different applications.
For additional information on spring's new products, LED lighting and modern lighting trends, contact Sarah Schaale or visit lumens.com.
About Lumens Light + Living:
Lumens Light + Living is dedicated to offering the very best of design-oriented lighting, fans and home accessories, from the most contemporary international designs to modern interpretations of classic design.
Contact:
Sarah Schaale, Assistant Marketing Manager
Lumens Light + Living
916-444-5885
http://www.lumens.com
# # #